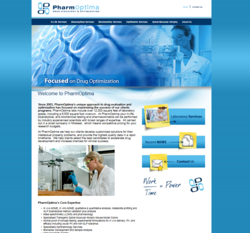 Portage, MI (PRWEB) July 16, 2012
Market Pipeline has recently launched a new website for PharmOptima. The new website highlights technical information about how they help with drug discovery, evaluation and optimization
Different services provided along with just what PharmOptima is all about and details on their own original way of pursuing drug discovery, evaluation and optimization can be read about in more detail on the company's newly designed website developed by Market Pipeline, which is accessible by visiting, http://www.pharmoptima.com.
PharmOptima, a drug discovery and optimization company located in Portage, Michigan has been in business since 2003. The company owns a 12,000-square-foot lab with a 6,500-square-foot vivarium where their industry-experienced scientists with varying areas of expertise perform bioanalytical and biomedical testing. The high-quality data these trained experts collect through the various services provided help to create customized solutions for their client's intellectual property problems. PharmOptima's top goal is to help clients make decisions that have high chances of clinical success and will be speedy in the department of drug development.
The company's new website provides information on different services offered including in life, bioanalytical, biochemistry, in vivo PK and ophthalmic services. The idea of drug discovery and optimization is touched on as well. The site's easy-to-navigate design makes it simple to move from page to page without getting lost or distracted by something off topic. The visual appearance is easy on the eyes and the information provided is clear, concise and straight to the point even given the complexity of the topic. Overall, PharmOptima's renovated website provides functionality with a delightful design and strong content that answers basic questions potential customers might have with direction and efficiency.
Market Pipeline, a company based in Portage, Michigan, is responsible for the web design. Market Pipeline specializes not only in web development, but web marketing and SEO as well. For more information about the company, you can visit their website, http://www.marketpipeline.com/.