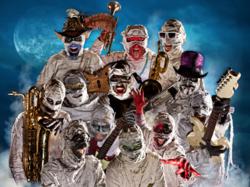 Cincinnati, OH (PRWEB) July 17, 2012
Hot off the heels of their Opening Day bash, the pre-eminent undead funk ambassadors come back to town to host a Halloween party you won't want to miss! The mummies bring their insatiable urge to get down to what promises to be one of the biggest parties Cincinnati will see this year.
General admission tickets, $22.50 ADV & $27.50 DOS (plus applicable fees), go on sale this Friday July 20 at 10 AM at http://www.ticketmaster.com, http://www.tafttheatre.org, the Taft Theatre Box Office and all Ticketmaster outlets including select Kroger stores. Charge by phone at 1.800.745.3000.
Over 5000 years ago, from the dry stretches of the not-so-fertile crescent, wandered a well-endowed, if foul smelling tribe, Expleticus Deleticus. They played upon musical instruments that, although crude, were nevertheless vessels of seeming infinite funkiness. Unearthed hieroglyphs (some thought to be the first instances of sexual innuendo in song "lyrics") tell a salacious story: a tribe possessing the power to groove most righteously, made drop the tunics of five luscious teenage daughters of the Pharaoh, who subsequently cursed them with a spell so vile, merely to repeat its name is to reduce your tongue to cinders inside your very head. Here the story breaks off...
For years, scholars of the ancient world wondered what became of this lost nomadic tribe. Theories abounded about the group's involvement in historical events from The Siege of Troy, to The Sacking of Rome, to the Fall of Pompeii, to the Sinking of Atlantis; these have since been dismissed, however, as parlor quackery.
Then, In 1922, at a dig in the desert south of Tunis, after hearing the unlikely thumping of music, albeit muffled, emanating from the sands underfoot, Professor Nigel Quentin Fontenelle Dumblucke IV unearthed the ruins of an ancient discotheque to find a dozen undead Egyptian mummies astonishingly still in the act of performing what he terms "Terrifying funk from beyond the grave". From these, who called themselves (somewhat ungrammatically) Here Come the Mummies, Professor Dumblucke learned of the powerful curse that doomed them to wander the earth, seeking the ultimate riff, the one that may allow their souls to rest after aeons of "banging out solid fly grooves".
Now, more undead than Dick Clark (but without the Lego snap-on hair), and cursed with a funk so strong, you'll never want to wash again, here comes... Here Come the Mummies.