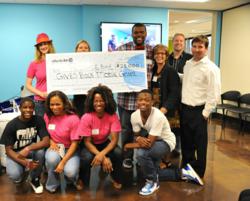 "Atlantic BT is proud to partner with Passage Home to further its anti-poverty mission in our community."
- Jon Jordon, Founder & CEO
Raleigh, NC (PRWEB) July 17, 2012
North Carolina-based Passage Home, a nonprofit focused on breaking the cycle of poverty and homelessness in Wake County, claimed victory last Thursday evening when it garnered over 2,000 online votes in 45 minutes to surpass Portland, Oregon's Cat Adoption Team as well as two other finalists in Atlantic BT's inaugural "Gives Back" Grant Contest.
Mobile technology has hit a tipping point of runaway consumer adoption, so Atlantic BT chose to focus its first grant contest on the company's mobile capabilities. The winning grant submission idea, The Passage Home Mobile Registry App will act much like a wedding registry on a mobile phone.
Passage Home's Development VP Karis Lovett-Tompkins came up with the idea when she realized there must be more effective ways to fulfill the program's needs. "Today, everything is done manually, from tracking what's needed to soliciting resources," Lovett-Tompkins explained, referring to the vast number of items needed in their programs, particularly for youth. "A registry app would not only streamline this process, cutting down dramatically on staff time, but it would elevate support among younger donors and volunteers, increasing the number of children and families supported by Passage Home. This app will help supporters visualize exactly how their gift is going to change a life - Whether through a paint set or a meal."
"Giving Back" is part of Atlantic BT's DNA. Our founder & CEO Jon Jordan's grandfather pioneered the "sweat equity" concept that inspired the creation of Habitat for Humanity. The company has always supported community efforts through providing in-kind web development and other professional services. Hosting a grant contest was collectively chosen by the employees as the best opportunity to educate, inspire and empower nonprofit organizations with the importance and effectiveness of mobile strategy and technology.
Atlantic BT and Passage Home will kick-off the mobile app registry project in late summer with a goal to launch prior to the holiday and year end giving season. More details and future contest sign-up information can be found at: http://atlanticbt.com/givesback
ABOUT PASSAGE HOME:
Passage Home is fighting to break the cycle of poverty and homelessness by providing a "hand up and not a hand out". It is a nationally recognized nonprofit community development corporation that has been serving Wake County, N.C. since 1991 and has developed a network of corporations, congregations, and community organizations that are supporting this work. Passage Home is focused on housing and support services, youth development, workforce development, and community engagement. For more information, visit http://www.passagehome.org.
About Atlantic Business Technologies Inc.
Atlantic Business Technologies, Inc. works with companies and organizations that consider their website, web and mobile applications critical for business. We partner with our clients to help them grow and thrive online. Atlantic BT has a team of nearly 70 professionals who manage custom, end-to-end solutions for over 1,000 clients. Our solutions include content delivery, data management and  visualization, mobile apps and marketing, e-commerce,  application development, business grade web hosting, web strategy, and all facets of Internet marketing. To see how we work, visit http://www.atlanticbt.com.