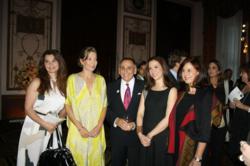 Having my finger on the pulse of the market keeps me a step ahead of my competition.
(PRWEB) July 16, 2012
Giovanni Marquez was invited to spend time with the First Lady of Columbia, Maria Clemencia de Santos, June 27, 2012 at the Waldorf Astoria Hotel's Grand Ballroom during the Proexport Columbia clothing industry showcase. Mrs. de Santos was well briefed on the stature and purpose of the Columbian clothing industry, as any head of state would be, before attending an international conference. Sipping cocktails with invited guests, she took the time to inquire about the nature of mens wear in the United States with Giovanni. He was more than happy to explain, "Even in a downturned market men's wear and mens shoes play an import role in driving the economy upward."
International importers like Fashion Menswear seek higher quality and lower cost by which they continue to offer a wide variety to their customers, while keeping retail costs stable. It is true that the boom in the American economy, experienced for a decade during 1998 through 2008, gave importers and retailers a false sense of prosperity. National and international banks as well as the GDP did not indicate that a global crash was soon to arrive. Only the strong survived and Fashion Menswear is one of them.
According to our interview with Giovanni Marquez, "Being nimble in a time of crisis is key." Intelligent importers and retailers sold current stock, cut back on new purchases, trimmed the staff but remained actively marketing to their customer base. "After all," said Marquez, "clothing is a staple and while we may have lost the frivolous buyer, we maintain our core."
The ProExport Columbia Showcase was designed to take advantage of the markets we have now including an expanding market in shirts for men. While the American economy is struggling to recover, the clothing industry is realigning itself with emerging global partners who may not have been in the mix before. Giovanni Marquez recognizes the importance of ProExport Columbia, Brazil Moda and Peru Moda, all of whom are gathering momentum to penetrate the American market. China and other Far East countries are losing their monopoly on low cost labor and seeing increased import/export costs. "Having my finger on the pulse of the market keeps me a step ahead of my competition," said Marquez. Proexport Columbia was an important event.