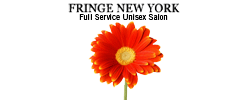 Who does your hair?
Kenmore, NY (PRWEB) July 16, 2012
The stylists at Fringe New York salon have mastered the art of European and Italian styling by partnering with Framesi, a prestigious Italian hair color company. By combining the hair styling expertise of Fringe New York's stylists with the coloring system developed by Framesi, Fringe New York can now offer their clients customized hair color that features the latest technology.
Founded in 1945, Framesi has perfected their coloring cream, Framecolor 2001, which offers a palette of colors that can be customized for each individual client. Framecolor was created in Framesi's research laboratory and is formulated to provide total coverage of gray or white hair, enhance skin protection and contain a low amount of ammonia. Framecolor is infused with amaranth and coconut oils, which enhances shine and contains Vitamin C to strengthen hair.
Fringe New York is an Elite Moda Capelli salon, which means that they have full access to Framesi's rewards program benefits. This includes continuing education for stylists, updates on product launches and technical support from color technicians. By taking advantage of the rewards program, Fringe New York ensures that their stylists provide clients with cutting-edge hair color products and services.
Fringe New York offers a range of salon services, with haircuts starting at $25, foil hair highlights starting at $35 and full head color starting at $40 and up. Fringe New York also uses other hair care products from Framesi, including the Silis hair smoothing and relaxing system, which removes frizz for days and can be combined safely with Framecolor 2001. Professional skin care hair removal, make-up regimens and keratin treatments are also available.
About the company:
Fringe New York is located in the heart of Kenmore, NY and specialize in European and Italian styling - Their mission is creating the best look just for their customers. They are top experts and professionals in hair cuts, color and highlights as staff members at Fringe New York are required to take higher education classes in an effort to remain at the forefront of their industry.
They have mastered the art of the Italian hair colouring system developed by Framesi, the most prestigious color company in the world. Enhanced by its coconut oil base, Framesi Colouring Cream infuses shine, condition and provides uniformity of color every time. Each color is specifically customized for individual needs. Framesi's unique cosmetic formula provides 100% white coverage with exceptional holding power while giving unsurpassed softness and brilliance to hair. For more information visit their website at http://www.fringe-newyork.com.