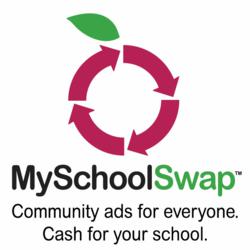 If fundraising groups across the country simply promote My School Swap as a practical addition to current efforts, students everywhere would inevitably benefit.
Gainesville, VA (PRWEB) July 17, 2012
MySchoolSwap.com, a new community advertising network that donates 50 percent of its ad revenue to schools across the country, provides an unconventional approach to school fundraising. As an affordable advertising web site that is accessible to parents, extended families and businesses for a charitable purpose, My School Swap offers a practical means for fundraising groups to generate revenue with minimal effort.
A simple ad to sell a household item, list a home for sale or promote a professional service can now also benefit any preschool through high school in the United States. As some students prepare for college dorm life, a family may come across the outgrown bike, athletic equipment or prom gown ready for the next generation. Simultaneously, small business owners like music instructors or child care providers who market to families with school age children, are getting ready for the upcoming school year.
Fundraising groups can now tap into this common necessity by promoting My School Swap and encouraging participation. Schools are not required to sign up, checks are distributed automatically once supporters are established. However, a partnership with My School Swap can increase profitability. My School Swap's free School Enrollment Program provides added benefits like customized messaging and marketing materials as well as specific group payment designation.
My School Swap has architected an expandable database of 134,000 public and private schools, each developing its own content page as supporters post ads. This enables a familiar and convenient environment for exchanges and communication. Any school, club or organization dedicated to the enrichment of children can be added.
Not only is this new online network a resale marketplace and promotional outlet with a meaningful purpose, it also serves as a free communication tool for promoting fundraisers or recruiting volunteers. My School Swap offers free ads in the School and Community category which includes School Events, Fundraisers and Sports Leagues.
For My School Swap, safety and security are priority. This web site is created primarily for adults as a useful way to support schools; children under the age of 18 are not eligible without supervision. Also, categories like Personals and Discussion Forums are purposely not included.
Furthermore, as a paid advertising website, inappropriate use and spam are less likely to occur. A reporting system and blocking codes are in place and all monetary transactions are handled securely through PayPal.
My School Swap is easy to use. Members simply buy credits to post ads then 50 percent is donated to their school of choice. So, if someone buys $20 dollars in credits, $10 dollars is sent to the school. The other 50 percent covers transaction fees, school payment distribution, affiliate programs and marketing. For more information about how it works, visit How it Works.
"If fundraising groups across the country simply promote My School Swap as a practical addition to current efforts, students everywhere would inevitably benefit," says Cathy Shalvey, co-founder and president.
To illustrate the impact that My School Swap can make on schools everywhere, here is one projected scenario. If just 10 percent of the schools in its database become active with supporters, that would be 13,000 schools nationwide. If each school has 50 supporters who buy $10 dollars in credits, that would bring $3.25 million to supported schools.
From a student perspective, that's 325,000 books at $10 dollars each or 6,500 computers at $500 dollars each. The potential of this program goes far beyond these estimates but the financial impact is easily understood through this lens.
For more information about the My School Swap School Enrollment Program, visit myschoolswap.com/school-fundraising. To connect with My School Swap, call (703) 754-8410 or visit http://www.myschoolswap.com.
About My School Swap
MySchoolSwap.com is a community-centric advertising network that sets itself apart from typical classified advertising web sites by donating a percentage of revenue to schools and other school-related groups and by providing a national network for the school community. It first launched in beta test phase during January of 2012 and made enhancements in April 2012. Within the first four months of operation, the company sent payments to seven schools in two states. My School Swap has an expandable database of 134,000 preschools, elementary and secondary schools across the United States to include public and private. My School Swap, LLC was founded by Cathy and Tim Shalvey of Gainesville, VA and is supported by an Advisory Board with expertise in areas of internet privacy law, search engine optimization, affinity marketing and education. More information about the leadership team can be found at http://myschoolswap.com/about/our-story.aspx
###