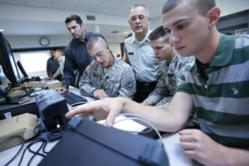 Northfield, VT (PRWEB) July 16, 2012
Norwich University officials announced that LeCroy Corporation has generously donated $267,000 of advanced test and measurement equipment to the Electrical Engineering (EE) department.
The gift was made in honor of Associate Director of Sports Information Charlie Crosby, 1963 alum and former LeCroy employee and his wife, Carole. As such the donation will launch the Class of 1963's 50th reunion gift leading up to that class' induction into the "Old Guard" at Homecoming 2013.
LeCroy, located in Chestnut Ridge, NY, is a worldwide leader in providing oscilloscopes, protocol analyzers and measurement solutions that enable companies across a wide range of industries to design and test electronic devices of all types.
The new equipment will replace the department's current machines and place Norwich as a partner for student projects with other schools, elevating the capability of the university to a leader in the field of EE technology.
Recently Norwich President Richard Schneider and department leaders recognized at a dinner LeCroy President Tom Reslewic for his generosity, followed the next day by training on the equipment for professors and students.
"Norwich is one of the oldest engineering schools in America," Schneider said. "This is a huge investment the LeCroy Corporation is making in Norwich University, and we appreciate it. This gift will help [our students] to become even better engineers."
At the dinner Reslewic remarked: "Smart people with good leaders – like you all here – have to produce, design and develop things. That's the value system of LeCroy and of Norwich University, and because of that I am really pleased to be involved with you."
Norwich University is a diversified academic institution that educates traditional-age students and adults in a Corps of Cadets and as civilians. Norwich offers a broad selection of traditional and distance-learning programs culminating in Baccalaureate and Graduate Degrees. Norwich University was founded in 1819 by Captain Alden Partridge of the U.S. Army. Norwich University is the oldest private military college in the United States of America and the birthplace of our nation's Reserve Officers' Training Corps (ROTC). http://www.norwich.edu