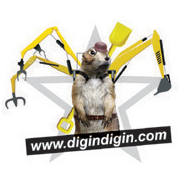 Montreal, Quebec (PRWEB) July 16, 2012
Digindigin.com an online web designer platform has just announced that it will be offering customized business card logo design logos to businesses and companies at an affordable price that customers are accustomed to. The need to provide customers with customized business card design logos are to enable them has a card design that conforms to their wishes and which will make their businesses achieve a professional look. The online design platform boasts of a pool of talented designers who form its online community. All that customers are expected to do is fill a clear order form with information on the kind of business card design and leave the rest to the talented pool of designers to customize the cards to their needs.
Digindigin.com continues to be a force to reckon with in the provision of quality logo design, business card design and a host of other things that are of interest to designers. Customers can visit there well design website which has a unique graphic design hence making it easy for customers to navigate. Customers get to familiarize themselves with logo designs, business card designs, and web page design among other things. Customers can make their orders online with the help of dedicated staff who guide them on the different kinds of designs on offer.
Digindigin.com is an online platform that is dedicated towards meeting all the client's needs. The site is dedicated towards providing customers with quality services at affordable rates. The new business card design logos are to be designed by its talented pool of designers who understand the concept of quality and customer satisfaction. All that clients need to do is fill a clear order detailing what they want on their business cards as well as the graphics that they are interested in.
For more information on business card design and what it entails, customers are advised to visit http://www.digindigin.com/ . The site contains a hotline number where customers can make a call and speak to the dedicated customer supports that are available 24/7. The customer support staffs are very knowledge on the subject of designs and are therefore very helpful in helping customers make an informed decision.
About digindigin.com
Digindigin.com is an online web platform which is popularly known for its crowd outsourcing. Digindigin.com has an online community of designers which are highly talented and understand the concept of quality and customer satisfaction. Once a customer fills a clear order form, designers who are interested contests for the job and the winner and most talented lands the deal. Digindigin.com major emphasis is on quality and the satisfaction of customers. This explains why it has been a leader in the provision of high quality services. Digindigin.com is a division of 123inkcartridges.ca