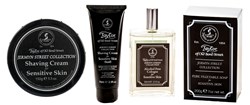 Toronto, Canada (PRWEB) July 17, 2012
Fendrihan has built its online presence and reputation for quality by offering only the finest, high-end shaving and grooming products for men. One of Fendrihan's goals is to provide men with sensitive skin suitable options for shaving cream and aftershave lotion that won't cause irritation or dryness. That is why the popular online retailer is expanding its array of offerings with the addition of five new products from the Jermyn Street Line by Taylor of Old Bond Street. These exciting new items are specifically formulated to meet the needs of men with sensitive skin.
Jeremiah Taylor created Taylor of Old Bond Street in 1854. Today, Jeremiah Taylor's great-grandson is the chairman of the company. The company has the same dedication to producing luxury grooming products for men that it did more than 150 years ago. Taylor of Old Bond Street's Jermyn Street Line is named for the street where the company is located. Their gentle aftershave lotion and cologne are alcohol-free to further satisfy the unique needs of sensitive skin. Despite being concocted for men with sensitive skin, many of the products from this line boast assertive, appealing fragrances. There are also unscented products such as aftershave balm and shave cream for men who are sensitive to heavy scents.
Although Fendrihan is based in Canada, it is famous for bringing together luxury men's grooming products from all over the world. Fendrihan welcomes everyone to peruse their selection of more than 1,250 items, including the latest from the Jermyn Street Line by Taylor of Old Bond Street, at http://www.fendrihan.com.
About Fendrihan:
Fendrihan is the premier Canadian online destination for shaving and grooming supplies for men. With a comprehensive product range that includes traditional grooming staples, hard-to-find products from around the globe and some of the most reputed names in gentlemen's personal care, Fendrihan's selection appeals to veteran wet-shavers and men of any age looking to elevate their daily grooming rituals. The Fendrihan catalog also includes European leather accessories that offer organization and clever convenience demanded and appreciated by their customers.
Contact Info:
sales(at)fendrihan(dot)com