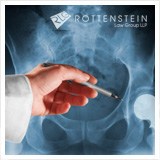 New York, NY (PRWEB) July 17, 2012
The Rottenstein Law Group, which represents clients with claims stemming from the failures of defective hip replacement devices manufactured and sold by various companies, is troubled by reports that the all-metal Pinnacle system might well be even more dangerous to recipients than the embattled ASR system.
According to a Reuters report, which estimates that the recall of DePuy ASR hip devices two years ago will cost Johnson & Johnson $3 billion, the "sequel"—a fiasco involving J&J's Pinnacle system—might end up being "more damaging and more costly" than one of the "most expensive medical device failures in U.S. history."
"A successor to ASR, the Pinnacle metal-on-metal hip system has nearly 1,600 lawsuits pending in U.S. courts," according to the Reuters piece. "Doctors who are tracking large groups of patients with both products estimate that more than 10 percent of the Pinnacle all-metal hips will have failed in the next two to three years. Metal-on-metal hip implants were sold on being more durable than those made of other materials, such as polyethylene or ceramic. They are meant to last up to 15 years, but as controversy over all metal-on-metal implants heats up, fewer surgeons are using them."
Recipients of Pinnacle implants—which, like ASR device, are "metal-on-metal"—likewise experience pain and swelling, limited mobility, and dislocation. Even more troubling to doctors, however, are the elevated levels of cobalt and chromium in recipients' bloodstreams, the results of deterioration of the all-metal implants. So-called "metallosis" "can lead to cardiovascular, neurological, renal and thyroid problems, in addition to destroying soft tissue, muscle and bone," as the Reuters article enumerates.
For the past two years, there has been much concern that all-metal hip replacement devices are doing harm to recipients, even as they fail earlier than expected and need to be replaced. Almost two years after DePuy Orthopaedics, a Johnson & Johnson company, recalled its ASR-brand devices worldwide, the first lawsuits against the manufacturer were recently scheduled for trial. Two ASR lawsuits will proceed before juries in Nevada and Maryland state courts on December 3, 2012, and in January 2013, respectively. (The Nevada case is Rundle, et al. v. Precision Orthopaedics, Inc. and DePuy Orthopaedics, Inc., no. A-11-636272-C, in the Eighth Judicial District Court of the State of Nevada; the Maryland case is Jackson, et al. v. Chesapeake Orthopaedics, Inc. and DePuy Orthopaedics, Inc., no. CAL10-32147, in the Circuit Court of Prince George's County, Maryland.) According to some reports, J&J has set aside several billions of dollars to pay DePuy ASR lawsuit awards and settlements.
Rochelle Rottenstein, principal of the Rottenstein Law Group, implores anyone with a friend or relative who has received a dangerous hip implant or other medical device to reach out to that person and recommend that he or she consult a physician immediately and then speak to a qualified personal injury lawyer. The Rottenstein Law Group maintains a DePuy Pinnacle Lawsuit Information Center at http://www.pinnaclelawsuit.com. (Attorney advertising. Prior results do not guarantee a similar outcome.)
About THE ROTTENSTEIN LAW GROUP
The Rottenstein Law Group is a New York-based law firm that represents clients in mass tort actions. The firm was founded by Rochelle Rottenstein, who has more than two decades of experience as a lawyer, to represent clients in consumer product injury, mass tort, and class action lawsuits in a compassionate manner. http://www.rotlaw.com
Contact:
The Rottenstein Law Group, LLP
Rochelle Rottenstein, Esq.
321 W. 44th Street
Suite 511
New York NY 10036
(212) 933-9500 (office phone)
(212) 933-9980 (facsimile)
rochelle(at)rotlaw(dot)com
http://www.rotlaw.com