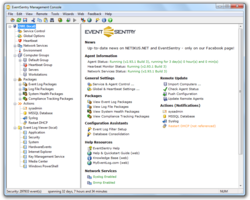 Chicago, IL (PRWEB) July 17, 2012
NETIKUS.NET ltd announces version 2.93.1 of its monitoring solution EventSentry, winner of the 2012 WindowsSecurity.com Readers' Choice Awards.
Version 2.93.1 is a major new version of its comprehensive monitoring and compliance solution. It features easier installation and deployment, a built-in SQL database, improved usability of the management console, an optimized event log monitoring engine, completely redesigned performance monitoring, additional server hardware inventory options and many other enhancements.
At its core, v2.93 features a new installer as well as a built-in PostgreSQL-based database, which will make the initial setup and deployment significantly easier, especially for new users. "After analyzing feedback over the last year, we recognized that an easier installation and setup will help EventSentry users get started more quickly", says Ingmar Koecher, CEO of NETIKUS.NET ltd. "Once EventSentry is setup on the network, users start seeing value almost immediately; so we're really looking forward to streamlined installation process".
The user experience has also been improved in the management console, with better keyboard and mouse navigation as well as significantly improved speed when saving. "Saving the configuration in v2.93.1 is about 10 x times faster now," comments Koecher, "this is very noticeable when you are working with a large rule set."
Also improved is the core event log monitoring engine for Windows© 2008 (and later), which can now process more events per seconds, while at the same time utilizing less CPU time. Throughput of the Heartbeat Agent is increased, which now monitors and scans remote hosts in parallel; hundreds of hosts can now be scanned in a matter of seconds, ensuring prompt alerts when a network problem occurs.
Performance monitoring, an extremely popular feature in EventSentry, was rewritten and offers new functionality such as trend detection, alert suppression, counter combinations and more. "We have taken our performance monitoring to the next level", explains Koecher, "which gives our users functionality that goes beyond 'simple' performance alerts. We can now detect subtle leaks (e.g. handle count, memory usage) that could lead to system instability".
EventSentry v2.93.1 also introduces support for USB-only temperature/humidity sensors and offers improved hardware inventory capabilities (including hardware warranty expiration).
Additional information:
Product web site
http://www.eventsentry.com
Complete list of new feature & bug fixes
http://www.netikus.net/software/eventsentry/history.htm
Product sheet
http://www.netikus.net/software/eventsentry/EventSentry_Product_Sheet.pdf
Testimonials
http://www.eventsentry.com/about/testimonials
About EventSentry
EventSentry™ is a comprehensive real-time event log, system and network monitoring solution. EventSentry helps customers meet their compliance requirements as well as prevent business outages with its powerful server health, network and environment monitoring components. The extensive software and hardware inventory capabilities in EventSentry provide additional value to its users. EventSentry is backed by excellent support, and can be highly customized to integrate with virtually any environment.
About NETIKUS.NET ltd
Founded in 2002, NETIKUS.NET is a privately owned software company located in Chicago, IL developing both free and commercial software products for IT professionals. NETIKUS.NET ltd can be reached at 1-877-NETIKUS or on the web at http://www.netikus.net.
Contact
NETIKUS.NET ltd
Ingmar Koecher
225 W. Washington St., Ste 2200
Chicago, IL 60606
312-624-7698
pr(at)netikus(dot)net