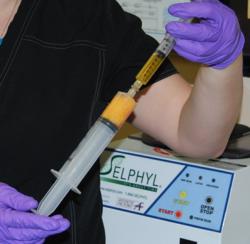 The ability to provide our customers with a comprehensive solution positions us well for the growing business of autologous fat transfer.
Wayne, New Jersey (PRWEB) July 17, 2012
Aesthetic Factors, LLC, (http://www.selphyl.com) a company focused on autologous, point-of-care systems for regenerative medicine, has acquired from Lipose Corporation the Viafill™ and Viasilk™ product lines, two leading brands in the rapidly growing autologous adipose (fat) transfer market.
Driven by an interest in natural alternatives to synthetic fillers, the fat grafting market has grown considerably over the last several years. According to the American Society of Plastic Surgery (ASPS) 2011 Procedural Statistics, fat grafting procedures in the U.S. have increased 19% in 2011 over 2010 with more than 68,000 procedures performed annually.
To complement their SELPHYL® system and be the first to offer physicians a comprehensive harvest, process, and delivery solution for fat transplantation, Aesthetic Factors has agreed to purchase both the Viafill™ and Viasilk™ product lines effective immediately.
Viafill™ is an FDA cleared, recognized and trusted brand that has been dedicated to offering surgeons an effective, convenient, and cost-effective method to process adipose tissue intended for immediate re-implantation. To complement the Viafill™ offering, Aesthetic Factors will also commercialize Viasilk™, a line of specially coated, first-in-class disposable cannulas designed for precision tissue transfer.
According to New York based Plastic Surgeon Robert Freund, M.D., founder of Lipose Corporation, "The Viafill™ and Viasilk™ systems offer proprietary technology that yields a higher quality of adipose tissue for reinjection. This results in better survival and longevity of the grafted fat." Dr. Freund, who will continue to work with Aesthetic Factors, noted that, "We are pleased that Aesthetic Factors has chosen to incorporate the technology into their portfolio along with their best-in-class Platelet-rich Fibrin Matrix system."
"We are extremely pleased to bring the Viafill™ and Viasilk™ offerings into our portfolio, which provides a strong synergy with our existing product lines," commented Sanjay Batra, Ph.D., President and CEO of Aesthetic Factors. Dr. Batra continued, the ability to provide our customers with a comprehensive solution positions us well for the growing business of autologous fat transfer. Having Dr. Freund join the team will help to deliver this technology to physicians and their patients."
About Aesthetic Factors -
Aesthetic Factors is an emerging leader in the science of autologous, point-of-care systems for regenerative medicine, and the company's SELPHYL® platform enables the safe and rapid preparation of autologous platelet-rich plasma (PRP) utilizing a small amount of the patient's own blood. PRP consists of a number of key biological factors that may support the survival of vulnerable cells and tissue, including transplanted adipose tissue. Over 350 physicians and clinics worldwide currently feature the SELPHYL® System http://www.selphyl.com