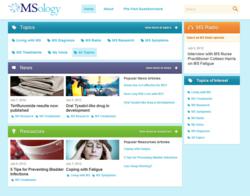 Our approach is to explain the science behind the research, give people the facts – and let them form their own opinions.
Montreal, QC (PRWEB) July 19, 2012
There is a quiet revolution in the treatment of multiple sclerosis (MS) with a decade-long explosion of research, a wealth of new medications in development, and growing dissatisfaction among patients and their families with how MS is being treated.
Six MS medications are currently approved and another half-dozen will become available over the next few years – creating difficult treatment choices for people living with MS and their families.
"There's a lot of information on the Internet about MS," says Steven Manners, Editor of MSology, a new online information service for people affected by MS. "Unfortunately, much of it is out of date, misinformed, or posted by people who want to sell you something. People need the straight facts so they can make informed decisions about their lives."
MSology (http://www.msology.ca) is a free information service offering the latest research news on MS, tips on living with the disease, and practical advice to help in making decisions. There will be special reports on "hot topics", such as the benefits of green tea, a discussion of CCSVI (chronic cerebrospinal venous insufficiency), and what is known about vitamin D and MS. Readers will also be able to have their say in the My Voice sections of the website.
MS is the most common neurological disease affecting young adults, and Canada has one of the highest prevalence rates in the world, striking 200 out of every 100,000 people in Canada. While treatments have been available since 1995, dissatisfaction with the available medications is high. In a recent US survey, two-thirds of people with MS said they'd like to change treatments (Caon 2011). Most people taking an MS medication stop within two years, according to a University of Toronto study (Wong 2011). This dissatisfaction may explain in part the CCSVI phenomenon that has seen thousands of Canadians travelling to other countries to undergo experimental surgery for their MS.
"The CCSVI controversy highlights how opinion and misinformation have replaced news and information on the Internet," says Steven Manners, Editor of MSology. "Our approach is to explain the science behind the research, give people the facts – and let them form their own opinions." Manners, who edited Canada's largest-circulation magazine for people with MS for 10 years, says that an online publication enables people to have access and provides them with the context to make the information useful. "The field of MS is changing daily and people need timely information," he says. "Should I start treatment? What are my options? These are not theoretical concerns – they are essential decisions that need to be made."
About MSology
MSology is a free website for people whose lives have been affected by multiple sclerosis. Its goal is to provide people with timely, accurate news and information about MS to enable people to understand the disease and make informed choices. Visit MSology at http://www.msology.ca.
For more information about MSology or to schedule an interview, contact Anne St-Michel, Lind Publishing, at 1-888-482-9096 or email astmichel(at)lindpublishing(dot)com.