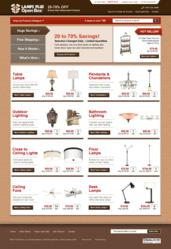 Lamps Plus Open Box offers brand new products for a fraction of the retail cost.
Los Angeles, CA (PRWEB) July 18, 2012
Everyone loves a bargain these days, which is why Lamps Plus, the nation's largest specialty lighting retailer, recently re-designed its popular online lighting outlet store, Lamps Plus Open Box. New website features include a streamlined home page that showcases select deals, and a "satisfaction guaranteed" policy allowing consumers to make hassle-free returns.
Open Box works as one would expect from a Lamps Plus outlet store, offering deep discounts on limited supply items. However, unlike many outlet lighting and home furnishing sale sites that sell old, overstock product, Open Box offers deals on brand new lighting and home decor products that have been returned to a Lamps Plus shipping warehouse or lighting store. Prior to being made available on Open Box, these returned designs are examined by a quality control team to make sure they are in perfect working order and in a "brand new" condition. The designs are then offered for sale on the site on a first-come, first-served basis. Free shipping is offered on many of the designs, allowing consumers to save even more. Boxes may show extreme wear, or the merchandise may not be shipped in its original packaging, but all Open Box product is "brand new."
With the website re-design comes an Open Box Satisfaction Guaranteed pledge allowing for customer returns. "We understand that some of our customers might hesitate to buy an open box design, even with our fantastic pricing," comments Dennis Swanson, Lamps Plus owner and CEO. "So we wanted to remove any hesitation on their part by making it clear that they can return any order for any reason, no questions asked."
The site's re-designed home page offers a snapshot view of select deals by category, from deals on outdoor lighting fixtures to discounts on bathroom lighting. An item availability count is listed beside each design along with the sale price, allowing consumers to make quick purchasing decisions based on how many items remain for sale. Also new to the site is a "hot seller" item at the top right of the page, in which the current lighting outlet hot sellers are featured. Because product selection and quantities change by the minute, the site has also been designed to update product availability information dynamically, giving customers the most current information at any given time.
Notes Swanson, "We think these site changes best articulate how Lamps Plus Open Box works and what kind of deals consumers will discover as they browse through the product categories. And adding the item availability ticker and "sold out" notices reinforces the first-come, first-served aspect of the site in a very direct and visual way."
About Lamps Plus Open Box
Lamps Plus Open Box originally launched four years ago. Since its launch, it has offered consumers a great place to find one-of-a-kind deals on lighting and home decor. Quantities are limited and the selection on the site changes daily. Each item is sold on a first come, first served basis. Customers can join the Open Box email list for special offers and advance notice on products available. More information can be found at http://www.lampsplusopenbox.com/.
About Lamps Plus
For more than 30 years, Lamps Plus has been synonymous with excellence in the lighting retail industry. Established in 1976, Lamps Plus is the nation's largest specialty lighting store, with more than 40 superstores throughout the western United States. Together with their retail lighting stores and online business, Lamps Plus serves customers nationwide with the largest selection of functional and decorative lighting fixtures, accessories, furniture and home décor. This selection includes hundreds of products available exclusively from Lamps Plus. Services include in-home lighting consultations, in-store lighting workshops and installation from expert, licensed electricians. American Lighting Association certified lighting designers are available to offer product recommendations and lighting advice in all our stores, by phone or online at http://www.lampsplus.com/.