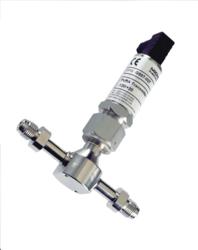 Rowley, MA (PRWEB) July 16, 2012
Users subscribing to the Pura Service Exchange Program can relax about their periodical calibration needs because, at an agreed time, Michell will provide them with a freshly calibrated, reconditioned transmitter. It takes just minutes for the user to install the new sensor in the process in place of the old sensor, which is returned to Michell.
By subscribing to the Pura Service Exchange Program, the user's process will always be monitored by freshly calibrated instruments, utilizing the latest firmware and hardware updates.
'The beauty of this system is its simplicity,' says Peter Shepherd, product manager for sensors at Michell Instruments. 'The user has the assurance not only of keeping their process operational throughout, but also of having a fully calibrated dew-point transmitter at all times. This increases the reliability of the process for everyone.'
He goes on to explain, 'This exchange program is perfect for industries such as semiconductor manufacturing where shutting down a process will involve loss of production time.'
Service Exchange is not the only option offered by Michell to help its customers maintain the reliability of their processes. The company has a fully UKAS and NIST accredited moisture calibration laboratory at their international headquarters in Ely, UK, and many customers opt to return their sensors here for recalibration.
'When users need to maintain full calibration traceability of their sensors, then recalibration is the best option,' explains Peter Shepherd. 'At Michell we offer a fast and reliable re-calibration service for our own sensors and instruments, as well as for other brands.'
The Pura Transmitter is a rugged, self-contained hygrometer, designed for the measurement of trace moisture content in ultra high-purity gases and is widely used in applications such as semi-conductor manufacture, fiber optic production as well as industrial gas production and distribution. Measuring dew points down to -120°C, or 1ppbV, the Pura provides one of the most economical, yet reliable, methods of measuring trace moisture.
About Michell: Michell Instruments is an international leader in the field of moisture, humidity and oxygen measurement solutions. With over 30 years experience, Michell designs and manufactures a wide range of transmitters, instruments and systems capable of measuring trace moisture, oxygen and hydrocarbon dew point in a vast range of applications and industries including compressed air, power generation, process, oil and gas, petrochemical, pharmaceutical and many more.