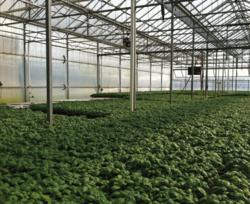 The purpose of our blog is to inform the public about the benefits of locally grown produce and how our current agricultural system is broken and harming our planet
Irvine, CA (PRWEB) July 16, 2012
Terra Tech Corp. (OTCBB: TRTC), a leader in sustainable urban agricultural products is pleased to announce the launch of their blog focused on Urban Ag solutions and feeding our global population.
Our nation's current agricultural system is oftentimes at odds with the health of the planet and our population. Through innovation we have the power and technology to redevelop the way the world feeds it's population. In the early 1900's our country was a nation of farmers, all produce and livestock were grown and processed locally out of necessity. Fast forward to today, agribusiness has completely industrialized our food system. Food production is done thousands of miles from the consumer, and often imported from outside of our country's borders. Hydroponic and aeroponic technologies, like those manufactured by Terra Tech, can be utilized to grow on rooftops in urban settings drastically cutting emissions that result from transportation.
"The locally grown initiative is sprouting up around the globe," says Derek Peterson, CEO of Terra Tech. "One of the best ways to utilize urban industrial space is through hydroponic and aeroponic technologies and we intend on educating and discussing these very issues in our blog."
Indoor agriculture reduces risk of food borne illness, eliminates the dangers of cross-pollination with GMO's, and maximizes efficiency thus producing a safer product with a small carbon footprint. Limiting "food miles" also ensures our produce retains the nutrients, enzymes, vitamins, and minerals essential to good health.
"The purpose of our blog is to inform the public about the benefits of locally grown produce and how our current agricultural system is broken and harming our planet," suggest Eddie Piatt, LEED certified Architect and Director at Terra Tech.
Small decisions have a huge impact when embraced globally. Terra Tech hopes their blog will help you stay informed about current events in urban Ag as well as contributing to the health of planet. Make every day Earth Day!!!!
For more information about Terra Tech, visit http://www.terratechcorp.com
About Terra Tech
Through its wholly-owned subsidiary GrowOp Technology, Terra Tech Corp specializes in controlled environment agricultural technologies. The company integrates best-of-breed hydroponic equipment with proprietary software and hardware to provide sustainable solutions for indoor agriculture enterprises and home practitioners. We work closely with expert horticulturists, engineers, and plant scientists to develop and manufacture advanced proprietary products for the fast-growing urban agricultural industry as well as individual hobbyists. Fortune 500 companies, small urban farmers, home enthusiasts, and traditional greenhouse growers utilize our products. Our complete product line is available at specialty retailers throughout the United States, and via our website. Terra Tech Corp was incorporated in July 2008 in the State of Nevada; its subsidiary GrowOp Technology was founded March 2010, in Oakland, California.
FOR MORE INFORMATION:
Terra Tech Media Contacts
Lindsay Wiemer
http://www.terratechcorp.com
investors(at)terratechcorp(dot)com
+1 (855) 447-6967
Statements in this press release may be "forward-looking statements" within the meaning of the Private Securities Litigation Reform Act of 1995. Words such as "anticipate", "believe", "estimate", "expect", "intend" and similar expressions, as they relate to the company or its management, identify forward-looking statements. These statements are based on current expectations, estimates and projections about the company's business based, in part, on assumptions made by management. These statements are not guarantees of future performance and involve risks, uncertainties and assumptions that are difficult to predict. Therefore, actual outcomes and results may, and probably will, differ materially from what is expressed or forecasted in such forward-looking statements due to numerous factors, including those described above and those risks discussed from time to time in Terra Tech Corp.'s filings with the Securities and Exchange Commission. In addition, such statements could be affected by risks and uncertainties related to Terra Tech Corp.'s (i) product demand, market and customer acceptance of its equipment and other goods, (ii) ability to obtain financing to expand its operations, (iii) ability to attract qualified sales representatives, (iv) competition, pricing and development difficulties, (v) ability to integrate GrowOp Technology Ltd. into its operations as a reporting issuer with the Securities and Exchange Commission, and (iv) general industry and market conditions and growth rates and general economic conditions. Any forward-looking statements speak only as of the date on which they are made, and the company does not undertake any obligation to update any forward-looking statement to reflect events or circumstances after the date of this release. Information on Terra Tech Corp.'s website does not constitute a part of this release.