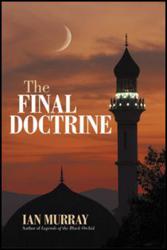 Ocean's Eleven meets The Bourne Identity in this fact-based thriller that follows members of the elusive Black Orchid intelligence team as they seek to destroy radical Islam's most potent source of funding…
Amelia Island, FL (PRWEB) July 17, 2012
Born and educated in London, England, author Ian Murray is a former member of Special Forces who as a young man was stationed throughout Africa, the Middle East and Southeast Asia. In his latest tale of "faction", fiction based on fact, he combines his real life experiences with members of the elusive Black Orchid espionage unit and gives us an inside look at radical Islam's 100 year plan to take over western society.
"Just as I revealed some of my father's real life experiences in my first novel, Legends of the Black Orchid, I felt enough time had passed to allow me to share some of my own stories and experiences in my latest book, The Final Doctrine. I've always been a great fan of history and I find that mixing world changing events with interesting characters and a storyline is a great way to engage the reader. It makes the reader question circumstances and allows them to make up their own minds as to what may have actually happened. I leave it up to them to sift out the fact from the fiction."
In his latest novel, The Final Doctrine, author Ian Murray outlines the origin of the current Jihadist movement–and although set in 1966–much of its content is relevant to what's happening in the world today. The story follows the adventures of Trent McStuart as he travels from within the Golden Triangle, through Southeast Asia, carrying a top secret microfilm and intelligence information for the British government.
As the information seeps its way back to the United States and Great Britain, a shocking scheme is uncovered commanding the immediate attention of both governments. As a result, an elite team is recruited from the CIA, NSA, MI5 and MI6 and put in place under the direction of the elusive Black Orchid, a private London-based intelligence unit. The Final Doctrine will make reader's question major events of the past fifty years, including the global environment we're witnessing today.
Ian Murray is currently writing his third novel in the Black Orchid series. He resides in Northern Florida with his wife, Robyn and their quirky yellow lab, Cody.
To learn more about author Ian Murray and his books, please visit http://www.ianmurray.net or view Ian Murray's Amazon author page. Connect on Facebook,Twitter, and Pinterest. For further questions or comments please use this Contact Form.