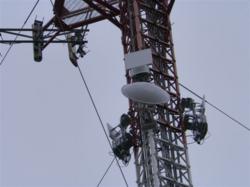 By deploying three PureWave Quantum sectors per site, we match the coverage delivered by our 700MHz base stations, but we have tripled the capacity.
Silicon Valley (PRWEB) July 18, 2012
Moonblink Communications, a value-added distributor delivering wireless and video surveillance solutions, today announced that KanOkla Networks has selected PureWave Quantum 3.65GHz Mobile WiMAX base stations to triple their network capacity. KanOkla, a rural wireless telecom operator serving south and north-central Kansas, engaged in the project to better enable data-hungry applications such as video streaming.
"Our network had reached capacity in some of our markets, and we needed a solution to meet the needs of a new generation of data-hungry customers," said Justin Mayo, KanOkla's Network Operations Manager. "The 700 MHz band has excellent propagation characteristics, but the available equipment is simply not designed for high-bandwidth applications like video streaming. With Moonblink's help, we identified that PureWave's semi-licensed 3.65GHz solutions were ideal for our network expansion."
KanOkla selected the PureWave Quantum base stations, which deliver a superior link budget, increase cell radius and vastly improve coverage in NLOS conditions. PureWave Quantum base stations are FCC certified to operate in the entire 50MHz available in the 3.65GHz band, and can operate with or without an access service network gateway (ASN-GW).
The 3.65GHz band offers 50MHz of spectrum that is accessible to most operators on a non-exclusive license. It also provides superior performance as it is relatively free of interference since operators are subject to GPS coordinate registration in each deployment site, and are required to coordinate operations with other operators using the same band in the area.
"We had previously been wary of the 3.65GHz band due to FCC power output restrictions and the rumor of limited radio propagation in such a high band," said Mayo. "However, once we started testing PureWave's Quantum base stations we were impressed. We are seeing links as long as 8 miles and more, even with significant traffic."
PureWave Quantum base stations utilize PureMax Smart Antenna Technology which includes multiple, self-calibrating antennas, enabling an unmatched link budget. This is accomplished via 6x6 MIMO technology, which optimizes network capacity and greatly simplifies planning – even in non-line-of-sight conditions. This is a critical feature for maximum performance of the uplink, which is subject to the strictest FCC power limitations. KanOkla chose to deploy the base stations in standalone mode, thereby simplifying the deployment and greatly reducing its cost.
"By deploying three PureWave Quantum sectors per site, we match the coverage delivered by our 700MHz base stations, but we have tripled the capacity," said Mayo. "Moonblink was there to provide service and support throughout our field trials and to assist us in our network deployment choices, which helped ensure success."
"When KanOkla came to us and explained that they needed to perform a significant network capacity upgrade in a cost-effective matter, we knew that PureWave was the ideal solution," said Daniel Redmond, VP of Sales & Marketing of Moonblink Communications. "Based on the 3X capacity increase and the cost-savings we've seen KanOkla achieve through this deployment, we certainly view this as a big win for both KanOkla and its customers."
KanOkla has already deployed 15 PureWave Quantum base station sectors, and will have approximately 30 operating in 10 counties by the time the upgrade project is complete. KanOkla's goal is to build a complete 3.65GHz overlay to its existing 700MHz network, thereby achieving the capacity it needs to deliver the services its customers demand.
About PureWave
PureWave is a rapidly growing, privately held company headquartered in Silicon Valley. A small cell pioneer, PureWave has commercially introduced multiple generations of small cell and compact 4G wireless base stations, starting with the 2009 launch of PureWave Quantum 1000.
PureWave's product portfolio includes the PureWave Constellation, a family of advanced, small cell LTE base stations that deliver jaw-dropping peak data rates of up to 1Gbps of LTE capacity and offers an array of advanced options, including multi-channel and multi-frequency support, advanced SON and traffic shaping. The company's PureWave Quantum family of award winning, outdoor, mobile WiMAX base stations is selling around the globe and has been deployed in over 120 commercial networks. More information at: http://www.pwnets.com.
About Moonblink Communications
Moonblink Communications is a value-added distributor (VAD) with a targeted focus on wireless and video surveillance systems. It is our mission to provide VARs and Integrators the solutions they need to successfully deploy the best wireless systems available for their customers while providing the greatest value. With a targeted wireless technology portfolio from the industry's leading manufacturers, we provide a complete spectrum of wireless and video surveillance solutions including WiFi, WiMAX, wireless Voice over WiFi, wireless surveillance camera systems, Video Surveillance as a Service (VSaaS), license-free and licensed broadband wireless solutions. For more information, please visit http://www.moonblinkwifi.com or http://cloud.moonblink.com/.