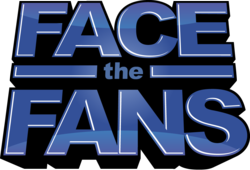 "What Face The Fans did was create a new engagement tool, where celebrities can interact with their fans, through play."
- Lani Blazier, Sea Shepherd Board Member
Los Angelea, CA (PRWEB) July 18, 2012
The fearless protector of Earth's oceans, Sea Shepherd Conservation Society, has a new tool in their arsenal and it's not a floating vessel of any kind. Sea Shepherd recently penned a deal with Face The Fans, a gaming platform for mobile and web.
Face The Fans is a mix of gaming and social media, with a way for people to interact with celebrities, win amazing prizes, and support great organizations, like Sea Shepherd, while they're playing a game.
With this partnership, all the celebrities that support Sea Shepherd, financially and otherwise, will have an opportunity to play games on Face The Fans. The celebrity and Face The Fans will donate a portion of the proceeds to support Sea Shepherd's ongoing efforts, protecting the integrity and survival of our oceans.
"What Face The Fans did was create a new engagement tool, where celebrities can interact with their fans, through play," said Sea Shepherd Board Member, Lani Blazier. "When we pair that with the stellar list of celebrities that generously support Sea Shepherd, it allows us to do even more to protect our oceans."
"Face The Fans provides a fun, interactive gaming experience for celebrities and their fans, but we also want to be known as a company that gives back," said Grand Chan, VP of Strategic Relations for Face The Fans. "We talk about the Whale Wars TV show in our office, so for us, partnering with Sea Shepherd was a big win on several fronts."
'The Agency' is the first game on Face The Fans and gives players the opportunity to run a virtual talent agency against a real life celebrity. Players 'Recruit' their stars and earn points in real-time, based on their stars' current popularity in the news. Players have fun learning that being a talent agent isn't an easy job and some stars need a well-timed 'Coddle', so they can continue earning points.
With dozens of celebrities signed and many more in the works, Face The Fans plans to launch 4 more games and apps by year-end. Every title on their platform will enable celebrities to... Face The Fans.
Visit http://www.FaceTheFans.com and http://www.SeaShepherd.org for additional information.
About Face The Fans
Founded in September 2010, Face The Fans is a social engagement platform that lets people interact with real-life Celebrities, through play. They can also compete for prizes and support charitable organizations. Face The Fans is a privately held company, headquartered in Atlanta, GA. More information is available at http://www.FaceTheFans.com.
About Sea Shepherd Conservation Society
Established in 1977, Sea Shepherd Conservation Society (SSCS) is an international non-profit conservation organization whose mission is to end the destruction of habitat and slaughter of wildlife in the world's oceans in order to conserve and protect ecosystems and species. Sea Shepherd uses innovative direct-action tactics to investigate, document, and take action when necessary to expose and confront illegal activities on the high seas. By safeguarding the biodiversity of our delicately balanced oceanic ecosystems, Sea Shepherd works to ensure their survival for future generations. Founder and President Captain Paul Watson, is a world renowned, respected leader in environmental issues. Visit http://www.seashepherd.org for more information.
About Lani Blazier
Lani is the youngest crewmember to have served on a Sea Shepherd ship. In addition, she has more than 12 years experience in the digital media and technology space, serving as television producer, community manager, and videogame producer. Since her teenage years, Lani has been an avid gamer, earning a spot on Canada's first fully sponsored competitive female team for 'Half-Life: Counter-Strike' from Valve. Her professional background includes working with award-winning companies such as NCsoft as a producer of the game, 'Aion'. In 2011, Lani was hired by 343 Industries as the Franchise Creative Producer to work with Microsoft Game Studios' internal 'Halo' team.