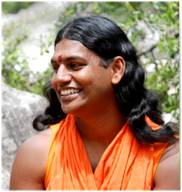 If aesthetic sense is awakened in you, you can never commit a crime.
Los Angeles, CA (PRWEB) July 16, 2012
While addressing his world wide followers on occasion of the Anniversary Celebrations of the Nithyananda Vedic Temple, Toronto, Cananda, Paramahamsa Nithyananda answered questions about deity worship in Temples. In response to a question whether people doing pooja (rituals) and worship are self-centered, Paramahamsa Nithyananda explained, "This is a type-cast put into people's mind in our society. Chaitanya the esteemed enlightened saint from 16th century says beautifully, one's feeling connection is the juice added which makes idol into God. First when a person responds to the idol, it becomes deity. When deity responds back to the person, it becomes God."
Paramahamsa Nithyananda said, "Continuously there is a section of intellectuals who say, that if one sees God in the deity, then they are emotionally weak. These groups of so called intellectuals spreading this idea have dried up human beings by making them literally empty from their emotional abilities.
Fighters are emotionally weak. It is like the street dogs in India, even while they are sleeping, they will keep growling under their breath, 'grrr, grrr', and protecting their territory. Emotionally weak people will do only that. They try to protect their territory consisting of their limited logic, their conditioning and understandings.
A person who can melt in devotion is emotionally rich. Ability to make idol into deity is an emotional ability. Ability to make tree to heal you, to make hill to give solace and peace, to make a river to give you joy, the ability to connect each animal to God are all emotional abilities. With all these abilities and powers, our Vedic civilization was such an emotionally rich civilization.
Adding value to gold, adding value to silk are all external abilities. But adding value to an idol and transforming it as a deity, it is an internal ability.
One needs emotional capabilities and ability to make an idol into deity. It awakens one of the different dimensions in human beings, the aesthetic sense. If aesthetic sense is awakened in a person, then that person can never commit a crime. Connecting with deities awakens the aesthetic sense. A man in whom the aesthetic sense is awakened, has respect for sentiments, respect for different forms of life, respect for non living things, respect for other person's sentiments. If you respect a deity, then, have feeling connection and start experiencing the life with the deity. One will be amazed at the sacred sentiments one experiences with the deity. The deity plays a major part in one's consciousness. Only if one can feel these sentiments, then that person can respect everybody's sentiments. It is the respect, being sensitive to the beauty, life's creativity through different expressions through emotions.
So understand, till one becomes enlightened, their perception is reality. Perception getting purified, is like crude oil becoming jet fuel.
Connecting with the deities happens in two ways, pooja and seva. All North Indian agamas (scriptures) are based on seva, serving God as a living energy in the deity. All south Indian agamas are based on pooja, pouring liters and liters of milk and worshipping. Attitude of pooja is different, attitude of seva is different. In North Indian agamas, they treat it as if it is alive. So I want all my traditions to be based on more seva(service) and less pooja(worship).
In Nithyananda Sampradaya, all temples, centers even devotees should handle the deities with the attitude of seva. Even pooja should be done with attitude of seva, serving."
For more details on the 21 Day Inner Awakening Retreat: http://innerawakening.org/
Creating a space for Divine: http://www.youtube.com/watch?v=glWGO7aYXrg&feature=plcp
About Nithyananda:
His Holiness Paramahamsa Nithyananda was recently appointed as the successor and 293rd pontiff of the world's oldest most ancient and richest Hindu organization, Madurai Aadheenam. Earlier this year he was recognized as one of the world's top 100 most spiritually influential personalities of 2012 by the reputed esoteric magazine 'Mind Body Spirit' from Watkins.
Paramahamsa Nithyananda is a global leader in yoga, meditation,kundalini awakening, enlightenment science. Clear, dynamic and modern in approach, Nithyananda's teachings have already transformed 15 million followers in 150 countries with the fastest growing spiritual community around the youngest incarnation.