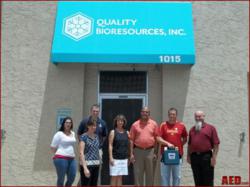 Brentwood, Tn (PRWEB) July 31, 2012
Medical Devices Group, a 126,000+ member LinkedIn group, gave away a Powerheart AED G3 through their latest sweepstakes to Quality Bioresources Inc., which provides custom lyophilization and manufacturing services to clients worldwide. AED.com donated a total of 10 AEDs to the LinkedIn Group for the sweepstakes.
Joe Hage, leader of the Medical Devices Group (126,000+ members) said, "The goal of the Medical Devices Group is to provide value far exceeding that of a 'typical' LinkedIn group. It is the industry's only spam-free, curated forum for intelligent conversations with medical device thought leaders and, as a way to thank our members, we like to run promotions like these every once in a while."
"I've known the leadership from AED.com for some time now and Matt Spencer's company was my natural selection for such a promotion," Hage continued. "I recognize a defibrillator is virtually the only way to resuscitate a sudden cardiac arrest victim and I wanted to make sure everyone in the Group knew it too."
Headquartered in Brentwood, TN, AED.com continues to spread awareness about Sudden Cardiac Arrest and the importance of having quick access to an AED (automated external defibrillator) in order to resuscitate a victim. AED.com provides products and services to over 20,000 customers in all 50 U.S. states and 35 countries.
For more information on AEDs, please visit: http://www.aed.com/