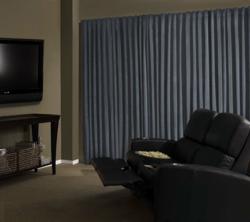 New York, NY (PRWEB) July 30, 2012
Ellery Homestyles, a leader in home fashion, has expanded their blackout curtain assortment with the latest innovation - Absolute Zero™ Home Theater Curtains. The patented Thermaback™ technology blocks 100% of unwanted light, while providing all of the luxury and style of naturally flowing draperies. Reminiscent of classic movie theater-style, these plush velvet curtains create the perfect atmosphere for at-home viewing.
With the popularity of home theaters growing, Ellery is offering consumers a do-it-yourself decorating solution that helps transform any room into the perfect home theater. Unlike most blackout curtains, Absolute Zero™ Home Theater curtains offer a 100% light-blocking advantage.
For more information, please visit Ellery Homestyles
About Ellery Homestyles
Ellery Homestyles is a leading supplier of branded and private label home-fashion products to major retailers – offering curtains, bedding, throws and specialty products. Our proprietary brands deliver innovation in fashion, function and design and include Eclipse™ - the voice of authority for energy-saving, noise-reducing, blackout curtains; Curtainfresh™ - innovative curtains with odor-neutralizing technology developed in partnership with Church & Dwight, maker of Arm & Hammer®; SoundAsleep™ room-darkening curtains, The Official Curtain of the National Sleep Foundation; ComfortTech™ - the only blankets constructed with premium 3M™ Thinsulate™ Insulation, providing luxurious style, lightweight comfort and superior warmth; VUE™ – the home fashion brand that presents Ellery's "point of view" on fashion trends and design, Waverly® - the oldest continuously advertised home fashions brand in America recognized by consumers for its distinctive traditional looks; Historic Charleston Collection™ - the distinctive home fashions brand that is steeped in historic Charleston's decorative arts culture and LinenHouse Australia – the leading brand known for innovative, intriguing designs in luxurious bedding, throws and accessories. Ellery is a global company headquartered in New York City with a 375M square foot distribution center in North Carolina and offices in China, India and Pakistan.