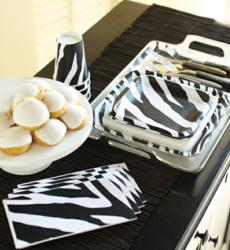 We are excited by the synergies we expect to gain
(PRWEB) July 17, 2012
PartyPail, Inc. today announced that is has completed the sale of its ecommerce operations to Hoffmaster Group, Inc. of Oshkosh, Wisconsin. The terms of the deal are not being disclosed, but the transaction includes the transfer of PartyPail's online retail operations to Hoffmaster effective immediately. Included in this transaction are all 7 of PartyPail's online retail websites which focus on baby showers, weddings, and other family milestone celebrations.
"We are excited by the synergies we expect to gain by adding PartyPail's ecommerce expertise to our own capabilities in the party supply and food service businesses," said Hoffmaster CEO Rory Leyden. "PartyPail is one of the fastest growing retailers of specialty party supplies, and their niche approach to serving their clients, combined with outstanding customer service, makes them a great match for our product distribution needs."
The business operations of PartyPail will continue under the existing management team. The companies expect no immediate changes operationally, and clients should experience no change in service levels. PartyPail has served over 200,000 clients in recent years from its Enumclaw, Washington distribution center.
"Partnering up with Hoffmaster was a very logical next step for us as a company," shared PartyPail CEO Edward Hechter. "We started this business as a lifestyle project, and as it has grown it has demanded an increasing level of sophistication in the types of products we offer our clientele. Hoffmaster's expertise in developing trend setting, high quality food service paper goods and party supplies make for an incredible opportunity for both organizations.
PartyPail CEO Edward Hechter will become President of Hoffmaster's PartyPail division. Hechter will be responsible for continuing the growth of the company going forward. PartyPail's track record of rapid growth was recognized last year when it was named the "9th Fastest Growing Private Company" in Washington State by the Puget Sound Business Journal.
###
About PartyPail Inc.:
PartyPail, Inc. operates online party supplies stores specializing in baby shower decorations, first birthday supplies, adult birthday party themes, and other family milestone celebrations. Operating in Enumclaw, Washington, the company was founded in 2007 and has served over 200,000 customers. For additional information, visit http://www.PartyPail.com.
About Hoffmaster Group, Inc.:
Founded in 1947, Hoffmaster Group, Inc., is a leading manufacturer and supplier of disposable tableware including paper plates, cups, napkins, decor, and more. With innovation as the cornerstone of the business' success, Hoffmaster continues to be a trendsetter, setting the standard for color, fashion, and design excellence in both its Food Service and Consumer divisions. Hoffmaster Group, Inc., is headquartered in Oshkosh, Wisconsin. For more information, visit http://www.hoffmaster.com.