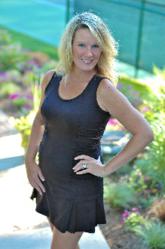 Johnson City, TN (PRWEB) July 18, 2012
Online retailer StylishFitnessClothes is hitting the greens and taking its game of fitness-meets-fashion to the courts by adding a new line of golf and tennis clothing for women. The trim designs include pleated skorts with inner-compression construction and soft, curve-hugging tops in sleeveless styles as well as short and long-sleeve looks.
The A-line pleated skorts come in solids as well as black-and-white houndstooth and a rosy pink herringbone. Solid colors include black, eggplant, smoky blue and white. Sizes vary by style, but range from extra small to extra large. Inner-compression fabric cinches the waist and tightens tummy and backside without creating unwanted muffin tops.
Side-panel construction gives the new golf and tennis tops a slimming curve and allows for combinations of contrasting fabrics. For example, the long-sleeved "Cynthia" style comes in black with eggplant houndstooth panels and collar.
Stylish Fitness' new golf clothing for women and tennis outfits supplement an already broad array of skorts, skirts, shorts, Bermudas and skinny leggings for those sports. Tops are equally abundant in styles ranging from sports bras and zippered hoodies to tanks, including ballet, full-back, I-back and toque looks.
Tennessee-based Stylish Fitness Clothes is known for its emphasis on comfort combined with good looks. Breathability and great wicking ability are important aspects of the buttery soft fabrics used in the company's activewear. The Stylish Fitness slogan of "work out to day out" expresses the company's driving idea that the best workout clothing is as appropriate for a day on the run with work, errands and socializing as it is for energetic workouts.
Stylish Fitness materials are breathable and supple. They include pure cottons, combinations with cotton and blends containing bamboo, Lycra, Supplex, Spandex and polyester. The company's activewear for women and men, is easily searchable by sport at the Stylish Fitness website. In addition to golf and tennis, the company sells garments for runners and yoga enthusiasts. The product line also includes comfy garments for an active pregnancy.
Stylish Fitness focuses on fashionable fitness and taking the stress out of fashion choices for people who are on the run with work and daily life. The company can be reached at its website (http://www.stylishfitnessclothes.com/) or by toll-free telephone at 866-557-1789.