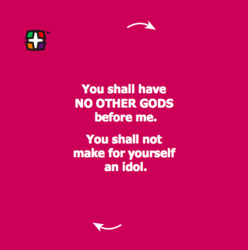 They're an amazing tool to use with the kids. Etha Jackson
Jamestown, NC (PRWEB) July 17, 2012
Memory Cross has created an origami card that helps children memorize Bible verses including the Ten Commandments. If children don't know the Ten Commandments how can they be expected to obey them? To help churches solve this problem Memory Cross has created two cards. One has all the commandments on one card and is used by churches who want to teach the Ten Commandments to their children. The second set is for parents who wish to work with their children at home.
Memory Cross, which was founded by Pastor Andy Lambert, has created hundreds of cards designed to help children memorize the Bible. One of the newest sets besides the Ten Commandments is a Scripture memorization pack. The set contains 17 cards: 9 scripture cards, the ten commandments, the books of the Bible, 4 blank cards so you can write down your favorite verses plus two outreach cards so you can share your faith.
Rick Warren in the Purpose Driven Life listed the benefits of memorizing Bible verses as follows: Resist temptation, make wise decisions, reduce stress, build confidence, offer good advice and share your faith. That's a pretty good gift to give kids.
About Memory Cross. Memory Cross creates origami style cards that are used to share the Gospel and teach children the Bible. It was founded in 2007 by Pastor Andy Lambert as a way to help children memorize Scripture.