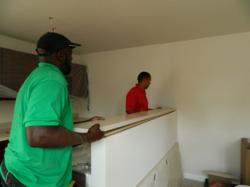 "With the goal of achieving LEED Gold or Platinum Certification, we selected Grenite to uphold the sustainable integrity of the entire project," said Don Pinkney.
Cleveland, OH (PRWEB) July 18, 2012
In support of its green education and job training program, Saint-Gobain provides Grenite® Engineered Stone Countertops and green building expertise through its Saint-Gobain Performance Plastics team to YouthBuild Philadelphia Charter School and the Akron Summit Community Action, Inc. (ASCA) YouthBuild Program in Akron, Ohio.
YouthBuild programs help low-income young people work towards high school diplomas and learn job skills by building affordable and sustainable housing in their communities. Saint-Gobain Performance Plastics' new contributions add to the existing over-arching national partnership between Saint-Gobain and YouthBuild USA.
"YouthBuild is a great program rooted in teaching students life-long skills that will help them thrive in the business world and its mission aligns with our commitment to provide sustainable products that support energy-efficient buildings," said Diana Ohl, product manager engineered stone at Saint-Gobain Performance Plastics. "This program helps students gain invaluable experience as they work towards developing the necessary skills to be successful."
YouthBuild Philadelphia is rehabilitating a formerly vacant property into a two-family home, which will be seeking LEED® certification from the U.S. Green Building Council (USGBC). Grenite, in the color Birch Prada, was installed in both kitchens for the countertops and an island that can function as a breakfast nook or serving area.
"With the goal of achieving LEED Gold or Platinum Certification, we selected Grenite to uphold the sustainable integrity of the entire project," said Don Pinkney, construction manager of YouthBuild Philadelphia Charter School. "It's wonderful to have our students learn about the strategies, materials and products that lead to sustainable building. Grenite is the perfect fit for this project as it is easy to install, manmade and has up to 85 percent recycled content."
In addition, Saint-Gobain Performance Plastics is donating countertops to a current ASCA rehab project, a split-level five-bedroom home, which is also seeking a Platinum LEED certification from the USGBC. As part of the company's commitment to educating YouthBuild students on the latest in sustainability, Ohl presented at a green education session to the Akron YouthBuild students. Following the session, 14 students toured Saint-Gobain's Ravenna, Ohio factory and learned how the Grenite product is made.
"As the program and its students embrace green building practices, we enjoy supplementing their on-the-job experiences with a view of how the products they're installing are manufactured," added Ohl.
With one of the highest abrasion resistance of all countertop materials, Grenite is ideal for high-traffic horizontal and vertical applications in the retail, hospitality, banking, education, healthcare, entertainment and restaurant industries. Manufactured entirely in the United States, Grenite is also flame-retardant, NSF 51 and GREENGUARD certified, non-porous, durable and easy to install.
Grenite is a sustainable alternative to materials such as laminates, solid surfaces, quartz and granite. It features the highest post-consumer recycled content currently available in the market — up to 85 percent — and is eligible for LEED points through the USGBC.
For more information about Saint-Gobain's Engineered Stone, visit http://www.engineeredstone.saint-gobain.com, email engineeredstone(at)saint-gobain(dot)com or call 330-298-3964.
About Saint-Gobain in North America
Saint-Gobain, the world's largest building materials company, has its North American headquarters in Valley Forge, Pennsylvania. As the world leader in sustainable habitat, Saint-Gobain is committed to inventing solutions to help professionals and communities around the world build and renovate comfortable, healthy, economical and energy-efficient buildings. The company has more than 265 locations in North America and approximately 19,000 employees, with more than 1,000 based in Ohio. In the United States and Canada, Saint-Gobain reported sales of approximately $7.7 billion in 2011.
Saint-Gobain's family of companies in North America includes CertainTeed Corporation, as well as Saint-Gobain Abrasives, Saint-Gobain ADFORS, Vetrotech Saint-Gobain North America, Saint-Gobain Glass, Saint-Gobain Solar and Saint-Gobain Performance Plastics.
Recognized as a 2009 and 2010 ENERGY STAR® Partner of the Year by the U.S. Environmental Protection Agency, Saint-Gobain earned the 2011 ENERGY STAR Sustained Excellence Award, the highest level of recognition for outstanding contributions to protecting the environment through energy efficiency. For information about Saint-Gobain in North America, visit http://www.saint-gobain-northamerica.com.
About Saint-Gobain Worldwide
Saint-Gobain headquartered in Paris, is the world leader in habitat markets – providing innovative solutions to meet today's challenges of growth, energy efficiency and environmental protection. With 2011 sales of $56 billion, Saint-Gobain operates in 64 countries and has nearly 190,000 employees. For more information about Saint-Gobain, please visit http://www.saint-gobain.com.
Grenite® is a registered mark of Grenite Sustainable Solutions (GSS). GSS is a privately held development and custom manufacturing company focusing on the creation of sustainable composite materials for use in the building, retail, theatrical/thematic, and general commercial and residential markets. With domestic and international marketing capacity, GSS provides products and services to many of the largest companies in the U.S. The company is headquartered in Metuchen, New Jersey, with R&D and custom molded manufacturing facilities in Los Angeles and sales offices worldwide. For additional information visit http://www.grenite.com.
###