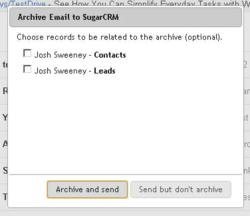 GLink is an amazing time-saver for archiving Gmail into SugarCRM, and seeing data from our CRM right in my email is invaluable.
Atlanta, GA (PRWEB) July 17, 2012
Atcore Systems announces the launch of GLink, their newest extension created for companies that utilize SugarCRM and have the desire to integrate and archive business emails from within Gmail. SugarCRM is the world's fastest-growing customer relationship management company and Google's free e-mail provider, Gmail, maintains its spot as one of the most popular email domains in use. The ability of Atcore Systems to incorporate these two facets of a user's everyday life provides yet another invaluable opportunity to help businesses using Gmail attract prospects, convert them to customers and then retain the most profitable customers. Atcore Systems offers business software solutions and consulting services while maintaining their position as the leading provider of SugarCRM training and consulting in the Southeast.
GLink provides a seamless choice for users to document current and prospective client activity. This documentation takes place within a system they are already familiar with, Google's web-based Gmail, and combines it with the SugarCRM platform used by the company's sales and marketing team. Providing an option for Gmail users to effortlessly link their daily Gmail interactions with the tracking and reporting capabilities of SugarCRM has the potential to increase business outcomes while allowing sales and marketing staff members to focus on maintaining the relationships that give purpose to the business.
Specific features of the GLink module for Gmail Chrome include:
-Auto Pop-up with every email send proposing the option to archive an email
-Archive to any record, based on the contact's email address
-Archive to multiple records at one time
-Optional setting to disable email archiving, if desired
-Create Leads, Contacts, Opportunities and Cases directly from your Gmail inbox
-Automatically detects existing SugarCRM records and links to the Gmail contact
"Our newest integration for Gmail will save not only time for the users, but also eliminates the possibility of human errors by ensuring all of the client activity is accurately captured within SugarCRM" stated Josh Sweeney, Founder and CEO of Atcore Systems. President of Highgroove Studios, Charles Brian Quinn, praises the Gmail/SugarCRM integration noting that "GLink is an amazing time-saver for archiving Gmail into SugarCRM, and seeing data from our CRM right in my email. It's an invaluable tool that saves me literally hours of time every month."
Atcore Systems has also developed a wide variety of other SugarCRM modules that are available for purchase, including Sugar2Prod, SugarChimp, GetSocial Twitter Pro, Sugar2Facebook, TempRelate, Time Consult, Rimport, Mobile Address, GeoSearch, and Contact Indicators. These modules, along with GLink, can be found on Atcore's SugarCRM Modules page.
Visit Atcore's GLink module page for more information about the GLink module for SugarCRM and Gmail Chrome.
About Atcore Systems:
Atcore Systems is a software consulting firm that specializes in implementing solutions to help businesses attract prospects, convert prospects to customers and retain the most profitable customers. It is the premier SugarCRM consulting company in the Southeast, focused on assisting other consultants and companies maximize revenue and increase net profit. Atcore Systems is a proponent of educating the business community on CRM best practices through consulting, speaking, networking and facilitating events.
For more information about Atcore Systems, please visit the website at http://www.AtcoreSystems.com.
About SugarCRM:
SugarCRM is the world's leading provider of open source customer relationship management (CRM) software. More than 5,000 customers and half a million users rely on SugarCRM to execute marketing programs, grow sales, retain customers and create custom business applications. Leading publications such as CRM Magazine, InfoWorld and eWeek praise SugarCRM for its ease-of-use, flexibility and open design. SugarCRM runs on the leading cloud computing platforms, including Amazon EC2, Microsoft Azure, Sugar On-Demand and Private Clouds, offering customers unparalleled choice and control of their data and deployments.
For more information about Sugar CRM, visit their website at http://www.SugarCRM.com.