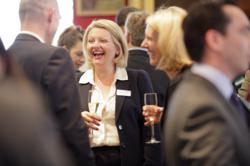 Excellent venue, company and gossip!
London, UK (PRWEB UK) 18 July 2012
On 18 June 2012, Private Client Practitioner's Top 25 Trust Companies champagne reception attendees enjoyed Bonham's British and Continental Pictures preview and stimulating conversation.
As part of Private Client Practitioner's Top 25 series, the Top 25 Trust Companies aims to identify, recognise, introduce and promote the Top 25 Private Client Trust Companies, in the UK and UK offshore. The champagne reception, held at Bonhams in London, included guests from the leading UK and UK offshore trust companies, such as Bedell Group, Capita Fiduciary and Jersey Trust Company. These firms, and others, had been identified by Private Client Practitioner as being the leading trust companies offering private client advice.
Wendy Marston Events is a specialist event planner, focusing on the organisation of awards programmes and their associated receptions, dinners and meetings, from small roundtable breakfast meetings to gala award dinners. Wendy Marston, founder and director, has been managing the PAM Awards for PAM Insight, the company behind Private Client Practitioner, for over 10 years, and in 2012 has taken over the organisation of their remaining suite of awards and events.
"With most of this market based offshore, it is impressive we had so many senior attendees, with senior directors and department heads making up over 80% of the guest list. It is a testament to how well respected PAM Insight's initiatives continue to be, and we at Wendy Marston Events are so pleased to be able to help them grow this reputation," says Wendy Marston, founder and director.
Bonhams provided an impressive backdrop, featuring the artwork from their British and Continental Pictures sale held on 19th June. Bonhams provided the catering, serving Corn Cups with Guacamole and Prawns, Sunblush Tomatoes with Goats Cheese and Basil Cream on Toasts, Parma Ham Wrapped Asparagus and Blinis with Smoked Salmon and Herb Cream Cheese Topping. The champagne was Louis Roederer Brut NV. Photographs were taken by Simon Hargrave. Plaques produced by Awarded2U were handed out to the winners, following brief speeches by Ed Hicks, the managing director of PAM Insight and Tristan Blythe, editor of eprivateclient, as well as Joe McLoughlin, Co-Head of Private Clients UK at GAM, the sponsor behind the initiative.
Feedback from guests at the reception has highlighted the importance of the event for networking with senior professionals in the industry.
"Many thanks for asking me to the drinks reception at Bonhams. Excellent venue, company and gossip!" – Mark Allerston, Marketing Director, Asset Risk Consultants
Companies interested in improving the return on their events and awards programmes can contact Wendy Marston at Wendy Marston Events at http://www.wendymarstonevents.com.