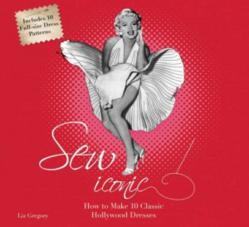 I have always loved the easy elegance of this dress! I was so excited to get to sew up my version of it!
San Diego, CA (PRWEB) July 18, 2012
Thunder Bay Press is excited to announce availability of the book "Sew Iconic – How to make 10 classic Hollywood Dresses" by Liz Gregory. Already a popular book overseas, Sew Iconic shows you how to construct dresses such as Marilyn Monroe's billowy white halter from The Seven Year Itch or Audrey Hepburn's chic black number from Breakfast at Tiffany's.
This guide includes sewing patterns, tips on materials and clear instructions for making the same dresses once worn by the likes of Grace Kelly, Rita Hayworth and Kate Winslet. Beautiful photos throughout the book give visual details on how techniques and embellishments should look and also tell the story of the legendary dress itself.
In celebration of the release of this book, Thunder Bay Press enlisted the help of top sewing bloggers to create their favorite dress from the book. Elizabeth from the blog Simple Simon and Co. recreated the pink mambo dress made famous by Jennifer Grey in Dirty Dancing, while Anne Weaver from Craft Gossip chose to make the brown and white polka dot dress Julia Roberts wore in Pretty Women. While both bloggers noted that the patterns need to be adjusted for fit, both were thrilled with the way the dresses turned out.
"I have always loved the easy elegance of this dress! I was so excited to get to sew up my version of it," noted Anne Weaver from Craft Gossip. " Now that I have a working pattern for a basic tent dress, I'm already planning some non-movie-related variations."
Other patterns included in Sew Iconic are:

The little black dress that Audrey Hepbrun wore in Breakfast at Tiffany's
The white halter dress that Marilyn Monroe wore in The Seven Year Itch
The green evening dress that Keira Knightley wore in Atonement
The black showgirl dress that Catherine Zeta Jones wore in Chicago
The blue chiffon gown that Grace Kelly wore in To Catch A Thief
The black sheath gown that Rita Hayworth wore in Gilda
The fawn coat dress that Faye Dunaway wore in The Thomas Crown Affair
The lace evening gown that Kate Winslet wore in Titanic
Sew Iconic : How to Make 10 Classic Hollywood Dresses ($19.95, 128 pages, ISBN 978-1-60710-442-1) is now available online on amazon.com and barnesandnoble.com and can be found wherever fine books are sold.
About Thunder Bay Press:
Thunder Bay Press (http://www.thunderbaybooks.com) is an imprint of Baker & Taylor Publishing Group, the largest distributor of traditional and digital media in the world. Thunder Bay is a collection of coffee table-style reference books suitable for gift-giving on the subjects of art, architecture, pets, cooking, travel, culture, hobbies, religion, transportation and nature. Thunder Bay Press is perhaps most known for its best-selling Then and Now series.