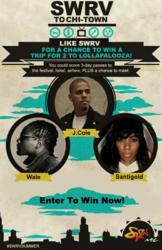 New York, NY (PRWEB) July 17, 2012
Music Choice's SWRV —the first only 24/7 interactive music video network that puts the viewers in control – wants to send you and a friend to the sold-out Lollapalooza Music Festival this August. To enter, fans must "like" SWRV's" Facebook page and complete the entry form @Facebook.com/swrv.tv
One Grand Prize Winner will be chosen randomly and receive receive a pair of festival passes to the sold out 3 day concert and the opportunity to meet Roc Nation artists J Cole, Wale and Santigold. In addition, SWRV will provide round trip airline tickets, 5 days/4 nights stay at a local hotel, ground transportation to/from airport in Chicago. The sweepstakes runs July 9-22, 2012. *Must be 21+ to enter.
For more information visit: http://www.facebook.com/swrv.tv
SWRV…Don't Just Watch!
ABOUT SWRV®:
The SWRV® network launched February 2010 by Music Choice®, the multi-platform video and music network and is the first ever interactive music video network. SWRV is currently available throughout the US via several providers including Verizon FiOS, Cox Communications and AT&T U-verse. From creating and starring in video dedications, to voting for the next video to play, and even taking over their own show, viewers can interact with and control SWRV content through their mobile devices and online at http://www.swrv.tv. SWRV features mainstream pop and hit-driven music videos.
For more information on SWRV log on to http://www.swrv.tv or to become part of the SWRV community join us on Twitter: @SWRV_TV | Facebook: http://www.facebook.com/swrv.tv