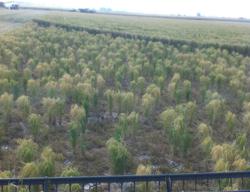 "Farmers don't like to sue but they're fed up with RiceTec's behavior and the problems they are causing."

Clayton Smaistrla, attorney
Paragould, Arkansas (PRWEB) July 18, 2012
Thirty-two farmers and farming operations have joined an Arkansas rice farmer in a lawsuit claiming RiceTec hybrid seed rice is defective, that the company has been lying to its customers for years about the product's quality, and that RiceTec hybrid seed is hurting the U.S. rice industry's reputation.
Furthermore, the suit contends the poor milling quality of RiceTec's hybrid rice has resulted in market losses for U.S. rice farmers.
The farmers joined as interveners July 16 in a countersuit filed July 6 in the Circuit Court of Greene County, AR, by Scott Meredith, who owns and operates a farm near Delaplaine, AR. The lawsuit began when RiceTec originally sued Meredith who had taken a stand and refused to pay his entire seed bill after the seed rice he received was defective. Meredith is countersuing RiceTec for allegedly misrepresenting the yields and quality of hybrid seed and selling him defective seed.
"Farmers don't like to sue but they're fed up with RiceTec's behavior and the problems they are causing," said Clayton Smaistrla, attorney with Goldman Phipps, who represents the farmers.
RiceTec, based in Alvin, TX and solely owned by the royal family of Liechtenstein, largely controls the hybrid seed market in the U.S, Smaistrla said.
The complaint states "The poor milling quality, storage capabilities and cooking qualities of RiceTec's hybrid rice has negatively affected the reputation of U.S. long grain rice, which has traditionally enjoyed a "gold" reputation in the worldwide marketplace . . . The defective condition of RiceTec's hybrid rice has caused the reputation of U.S. rice to suffer, even causing some markets to reject U.S. long grain rice and/or pay less for U.S. long grain rice because of its lesser quality and/or injured reputation."
By joining the lawsuit, the additional farmers and farming operation are making the same claims as Meredith.
Scott Meredith's Experience
According to the lawsuit, Meredith planted RiceTec 729 seed on 400 acres and RiceTec 745 seed on 300 acres of his operation in 2008, at a cost of $60,500, after being promised by the dealer and the company literature that the seed was "top quality." According to RiceTec promotional literature, Meredith could expect his normal yield of 150 bushels per acre using non-hybrid seed to yield between 187 and 197 bushels using RiceTec 729.
Over the growing season, however, Meredith called company representatives on multiple occasions after he noticed stands of 729 were unusually thin, plants were growing at wildly different rates, and that there was a wide variety in plant heads, including some heads with purple colored seeds.
The company tried to blame Meredith, who is a fourth generation rice farmer, for not farming rice correctly, the suit notes. At one point, a RiceTec representative said the company had determined that the problem was Meredith had applied the chemical "2,4-D" at the wrong time. But Meredith pointed out he cannot use the chemical since it is banned for use in Greene County because it kills cotton, which is also grown in the county, the suit says.
The suit alleges that the RiceTec 729 seed had a lower purity level and "appeared to be old seed and of a quality that RiceTec normally would have sold as table rice instead of seed rice." Meredith's 729 fields yielded only 70 to 95 bushels per acre, resulting in a substantial financial loss, the suit noted.
The Lawsuit's Main Claims
The lawsuit claims RiceTec violated the Arkansas Deceptive Trade Practices Act by, among other things, misrepresenting to Meredith and other farmers that its seeds were of a certain age, purity, variety and quality and would produce rice crops with substantially higher yields.
Furthermore, the lawsuit claims that RiceTec hybrid seed has an abnormally thin bran layer and cannot be milled to the standards that buyers expect, and that this defect is causing financial loss to rice farmers.
The lawsuit is Case No. CV-2011-65 filed in the Circuit Court for Greene County, Arkansas, Civil Division. More information about the case.
###
Goldman Phipps, PLLC is recognized as a national leader in agricultural mass torts, and is currently negotiating payouts for more than 1,500 cases in the $750 million Bayer CropScience GMO rice contamination settlement. The firm, which has offices in San Antonio and Little Rock, concentrates its practice on agricultural cases, mass torts, product liability and commercial litigation.