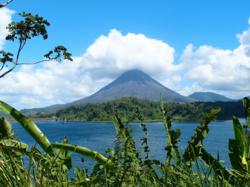 The boost in travel has also caused a massive hotel expansion – especially along the Guanacaste coast
(PRWEB) July 17, 2012
More people are traveling to Costa Rica than ever before, spawning a boom in hotel expansion and an array of all-inclusive travel deals to entice vacationers. AllInclusive.co, a leading travel company offering exclusive access to an inventory of all-inclusive resort packages, has reported a marked increase in the number of travelers visiting Costa Rican destinations. The Costa Rican Institute of Tourism and National Chamber of Tourism have allied to better serve the influx of travelers into the country, according to the Costa Rica News Report, making it a safer and more appealing destination.
The boost in travel has also caused a massive hotel expansion – especially along the Guanacaste coast. Riu, a luxury brand of hotels, recently announced the grand opening of its Riu Palace Costa Rica hotel resort, which will be next door to the All Inclusive Riu Guanacaste – a mega resort they opened five years ago. There is a variety of All Inclusive Costa Rica hotels situated along the Guanacaste/ Papagayo Coast.
According to research conducted by AllInclusive.co, Costa Rica is seeing this boom in tourism for multiple reasons:

Tabacon Hot Springs – a unique and exceptionally beautiful experience with numerous pools and waterfalls of varying temperatures in the middle a breathtaking rainforest. As Tabacon advertises, their hot springs are completely natural.
Arenal Volcano – An active volcano, though since October 2010 its activity is slowing, and explosions and lava are rarely seen.
National Parks – Rainforests and wildlife are partly responsible for the increase in ecotourism within Costa Rica. Nature preserves, habitats, and waterfalls abound throughout the country.
Costa Rica's other popular activities include zip-lining, rappelling, horseback riding, surfing, fishing, and more. It is an ideal destination for adventure travelers. The beaches in Southern Costa Rica, especially in Puntarenas, are considered the best by USA Today.
For more information about all inclusive vacations deals at the hottest resorts in Costa Rica and other tropical destinations, visit http://www.allinclusive.co/.