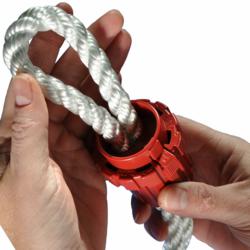 Brentwood, TN (PRWEB) July 17, 2012
Do it Best, Inc, one of the nation's largest hardware distributors is now distributing the patented Super Rope Cinch knot-tying device. Do it Best, Inc. currently distributes hardware goods to over 4400 stores in the U.S. and Canada.The Super Rope Cinch is a simplistic device made in the USA that allows anyone to tie and untie rope with a simple twist.
Since it's launch into retail back in June 2011, the patented Super Rope Cinch has caught the attention of many hardware and marine distributors thanks to the common problem it solves - Tying and untying rope without having to use a knot.
Drew Bourke, vice president of Just Right Products LLC, had this to say about Do it Best and the low retail price of the Super Rope Cinch:
"Do it Best stores have been quick to pick this up thanks to our successes at their trade shows. We recently won the exclusive Members' Choice Award from Do it Best, an award given to only one product in each category. This brought on immediate interest from all Do it Best retail stores. The Super Rope Cinch is expected to sell abundantly in their 4400 plus stores due to the low retail price of under $5, and because it promotes the sale of rope. Do it Best sells a lot of rope."
If unfamiliar with the Super Rope Cinch device:
The Super Rope Cinch is a plastic injection product made from two sections. Both sections are made from an automotive-grade acetal composite resin. Each section has an oblong hole in it. In the fully-open position, there's room for at least two 5/8" ropes (or smaller) to slide through. Ropes are inserted through the holes, and then the device is twisted. The twisting action forces the two oblong holes to turn in opposite directions, effectively closing the hole down onto the rope. A ratcheting lock mechanism lets you know the Super Rope Cinch is holding the ropes in the position the device has been twisted to. Ropes can be secured as tight or as loose as necessary.
Disengaging the device requires only the press of a button and a twist in the reverse direction. This disengages the ratcheting teeth, and allows the Super Rope Cinch device to open fully. Ropes are then free to slide out. The Super Rope Cinch works on most pliable ropes from 1/8" to 5/8", and can also be used to secure two or more ropes of different sizes.
The Super Rope Cinch is typically used to secure boats, personal water craft, cargo, luggage, tools, aircraft, and much more.
Learn more about the Super Rope Cinch and where to buy it at http://www.RopeCinch.com.