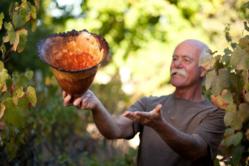 Irvine, California (PRWEB) July 18, 2012
The Orange County Woodturners are pleased to present a woodturning demonstration by Jerry Kermode. He is a full time artist working out of his home studio in Sebastopol, CA, with his wife, Deborah. In 1984 Jerry began turning bowls from freshly harvested Hawaiian trees, becoming a full time turner in 1991. Jerry's vessels are in numerous galleries and collections throughout the US. He has become a much sought after teacher and demonstrator. Feel free to learn more about Jerry Kermode at http://www.JerryKermode.com.
Jerry will be performing a woodturning demonstration on:
Saturday, July 21, 2012 at 9AM
Located at Laguna Tools,
17101 Murphy Ave,
Irvine, CA 92614.
Coffee/bagels, lunch, and snacks will be provided.
Cost is $40, Pre-paid Reservations Required
Contact:
Jerry Nininger (949) 631-7530 or
mail check, made out to OCWA, to Jerry Nininger
Email: jdnininger(at)yahoo(dot)com
411 E. 15th Street, Newport Beach, CA 92663
(Credit Cards Accepted)