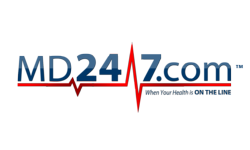 We want customers to look beyond Scam Informer.
Tampa, FL (PRWEB) July 16, 2012
On July 16, 2012 Thomas Meehan issued a statement to all current members of the MD247.COM telemedicine program, in which he announced that the supplemental healthcare provider would be expanding its social media activity to the platform Plurk. The reasoning behind the expansion of MD247.COM's social media presence beyond Facebook and Twitter is to allow all members of the telemedicine program the opportunity to express questions and concerns to a live body 24/7. The company is hoping that the ease of access will prevent anonymous reports from being filed Scam Informer styled websites.
Meehan explained that addition of Plurk, as well as other social media accounts, has been the practice for MD247.COM since the beginning. Finding a voice in and amongst the 5,000 "web everything" doctor sites is a difficult task and, in order to step out of the shadow, Meehan made the unprecedented move of changing his "social media channel" to "all talk." This translates to MD247.COM existing as one of a select few Plurk accounts encouraging real open discussion regarding current political and economic topics.
The MD247.COM Social Media Curator, Michelle Germann, has been given the "green light" to allow polite discussion of questions and concerns to take place on all MD247.COM social media accounts. Germann advised that customers with questions and concerns should find the customer care reporting process easy, and much more satisfying than filing a report on Scam Informer.
The MD247 Plurk account can be located at http://www.plurk.com/MD247.
Largo Florida based MD247.COM (MD247; MD/247; MD 247; M.D.247; MD-247) provides an affordable telemedicine supplement to existing healthcare services. MD247.COM telemedicine program members have unlimited telephone access to a nationwide medical support team, all with just a single phone call to the MD247.COM telemedicine Talk to a Doctor/Talk to a Nurse Hotline. MD247.COM has a virtual platoon of registered nurses; board certified physicians and a support staff available to members for all non-emergency situations. More information about MD247.COM is available online at http://www.md247.com.