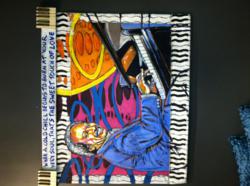 Boca Raton, FL (PRWEB) July 17, 2012
Boca Raton, Fla., - July, 17 2012–Bluegreen Corporation, a leading provider of leisure products and services is proud to showcase pieces by Louisiana based artist Tami Curtis-Ellis, in its recently renovated resort Club La Pension located in the French Quarter.
Curtis-Ellis was sought out and chosen by Bluegreen's team in 2010, when planning Club La Pension's multi-million dollar renovation. Timothy Schwering, Senior Regional Director - Construction & Development for Bluegreen said she was chosen for her eclectic New Orleans style and character, since the underlying goal of the renovation was to tell the deeper story of New Orleans not just the surface tourist perception.
"Tami's art reinforces the diversity of people and music that New Orleans represents," Schwering said. "Most of Tami's work is based on the rich history, music and culture of New Orleans."
Curtis-Ellis said she was really impressed and grateful when Bluegreen approached her, because of their intention to tell the real story of New Orleans.
"The folks of Bluegreen took time to talk to the locals and engage the musicians and visual artists of the area," she said. "This immediately made it authentic and appreciated."
Curtis-Ellis' work is permanently on display throughout the resort. Multi-media pieces, featuring what Curtis-Ellis calls "architectural salvage," decorate every one of the resort's 63 rooms, and three large-scale originals from Curtis-Ellis' "Musicians" collection hang in the lobby. Her work accentuates the new interior design, the essence of which exudes old New Orleans, with a "fresh twist of 'lagniappe' on the side," Curtis-Ellis said.
"It is posh and comfortable all at the same time, and every face wears a genuine smile," she said. "I am very honored to have my artwork play a part of this story by becoming focal points in the lobby and the rooms. Le Pension and my artwork fit like peas in a pod."
ABOUT BLUEGREEN CORPORATION
Founded in 1966 and headquartered in Boca Raton, FL, Bluegreen Corporation (NYSE:BXG) is a leading timeshare sales, marketing and resort management company. Bluegreen Resorts manages, markets and sells the Bluegreen Vacation Club, a flexible, points-based, deeded vacation ownership plan with more than 160,000 owners, over 60 owned or managed resorts, and access to more than 4,000 resorts worldwide. Bluegreen also offers a portfolio of comprehensive, turnkey, fee-based service resort management, financial services, and sales and marketing services on behalf of third parties. For more information, visit http://www.bluegreencorp.com. See what Bluegreen owners are saying on Facebook or watch us on YouTube. Visit our Press Room to find out more about what's happening with Bluegreen Vacations.