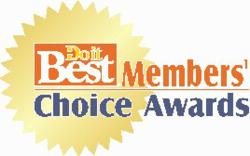 National Nail Corp. is a proud vendor partner with Do it Best Corp., and is greatly honored to receive this award
Grand Rapids, Mich. (PRWEB) July 18, 2012
National Nail Corp.'s (NNC) CAMO Hidden Deck Fasteners received a Members' Choice Award from Do it Best Corp. member-owners attending the 2012 Do it Best May Market™ in Indianapolis, Ind., from May 19-21.
Based in Fort Wayne, Ind., Do it Best Corp. is the only U.S.-based, member-owned comprehensive and fully integrated hardware, lumber and building materials buying cooperative in the home improvement industry. With annual sales of $2.6 billion, Do it Best Corp. is the second largest co-op in the industry, serving more than 4,000 member-owned locations in the United States and in 50 foreign countries. Visit http://www.doitbestcorp.com for more information.
The Members' Choice Awards recognize new and innovative products introduced by vendors at the co-op's semi-annual markets and are a way for members to highlight items they feel have the potential to be appealing top sellers with their customers. CAMO Hidden Fasteners, along with the other 24 Members' Choice Award winners, will be featured in the New Idea exhibit at the Do it Best October Market™ from October 13-15, 2012.
"National Nail Corp. is a proud vendor partner with Do it Best Corp., and is greatly honored to receive this award," said Jack DeYoung, North Regional Vice President at National Nail Corp. "CAMO Hidden Fasteners are a relatively new product for Do it Best Corp., so receiving this recognition this early on is a great validation for both companies—and speaks to what a unique and relevant product CAMO is to the decking industry."
For more information about CAMO, please visit http://www.camofasteners.com or call 1-800-968-6245 ext. 2118. Be sure to "Like" CAMO Fasteners on Facebook and keep up with CAMO news, stories, photos and events by signing up for the CAMO Connection.
National Nail Corp., headquartered in Grand Rapids, Mich., is an employee-owned manufacturer and distributor of high quality, innovative building products and service solutions for the residential and commercial construction industries. Other National Nail brands include Pro-Fit® Fasteners, STINGER® Cap Systems and Impressions Storm Doors and Windows.