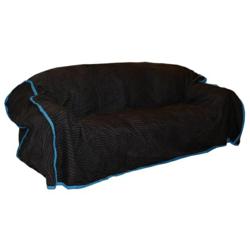 We're known for our extensive selection of moving blankets; it made sense to upgrade our covers to a moving blanket-quality fabric.
-Sarah Barron, US Cargo Control
Urbana, Iowa (PRWEB) July 19, 2012
With moving season in full swing, US Cargo Control has continued to improve and expand its moving supplies category, with the addition of a line of upgraded quilted furniture covers. The e-commerce company has always offered the covers as part of their moving supplies category, but the most recent roll-out includes improvements to the fabric and binding.
Sarah Barron, US Cargo Control's merchandising team lead, said the quilted covers are now constructed of the company's popular "Performance" moving blanket fabric. The cotton/polyester blend offers a light weight to reduce bulk, without sacrificing the protection of a professional moving blanket. The new design also features colored binding so it's easy to distinguish the different covers just by the color of the binding. "Creating the covers in the 'Performance' fabric with the different colored binding was based on feedback we received from professional movers," said Barron. "The fabrication makes them extremely durable and the colored binding makes it easy to quickly select the right cover since each size has a different color."
US Cargo Control was named a Preferred Vendor by the national moving company, TWO MEN AND A TRUCK® last year and frequently uses feedback gained from moving professionals. Barron said the sizes of the covers were also adjusted based on typical furniture and appliance sizes so they'll fit a wider range of items. "Sofa sizes, for instance, can vary quite a bit; these new covers are generously sized, and we also offer large rubber bands to secure covers if needed," said Barron.
Covers available on the USCargoControl.com website include a sofa cover, love seat cover and chair cover, as well as appliance covers designed to fit a refrigerator and a standard size washer, dryer or range oven. The newly updated line also includes three different-sized covers for hand trucks, and plans are in the works to update the remaining quilted items, which include a banister cover and door cover.
Moving supplies are a top seller at the rapidly growing e-commerce company, which also sells a variety of cargo control products ranging from rigging and lifting equipment to flatbed trucking products. According to Barron, the company's expertise in the moving blanket market was the catalyst for the decision to upgrade the covers. "We're known for our extensive selection of moving blankets; it made sense to upgrade our covers to a moving blanket-quality fabric," said Barron.
The company has also upgraded its lines of hand trucks, appliance dollies and moving boxes in recent months, as well as added furniture sliders and plastic furniture covers to its product lineup.
###
About US Cargo Control
US Cargo Control was founded in 2005, offering products for the trucking, hauling, rigging, lifting, and moving supply industries. The company quickly expanded its brand portfolio to include additional web properties under the Clickstop name, including Eco.Foil.com, SpaceSavers,com and BellyBling.net. For more information, visit Clickstop.com.