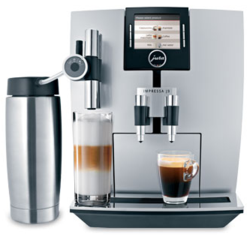 Vernon Hills, IL (PRWEB) July 17, 2012
Zadoozy, the Internet's best source for top performing products for the home, announced today that it has been authorized to sell Jura coffee systems.
Jura automatic espresso machines are available today on Zadoozy's website and to walk-in customers who visit Zadoozy's showroom in Vernon Hills, Illinois.
Zadoozy markets a wide range of premium products according to company co-founder Matt Delfino, including Austin Air and IQAir air purifiers, SEBO and Miele vacuum cleaners, Miele coffee machines, Sunpentown and Stadler Form humidifiers, Hurom slow juicers, and chemical-free Vapamore and Ladybug steam cleaners.
"We're excited about the new Jura espresso machines," says Delfino. "We can't wait for people to stop by for a free tasting. The Jura machines deliver the most amazing espresso or latte every time. All it takes is the touch of a button. It's an experience that will make the heart of even the most demanding coffee fan beat faster."
Zadoozy carries a full selection of countertop Jura espresso machines, including the pocketbook friendly IMPRESSA C5, the IMPRESSA C9 One Touch, the IMPRESSA S9 One Touch, the IMPRESSA J9 One Touch TFT, the top-of-the-line IMPRESSA Z7 One Touch with eight pre-set beverage buttons, and the ENA 9 One Touch, the slimmest machine from Jura at just 9½ inches wide. Equipped with innovative and user friendly features, these state-of-the-art machines offer a full menu of delicious specialty coffees—from single or double coffee and espresso to lattes, cappuccinos and macchiatos—freshly ground at the touch of a button in less than 60 seconds.
Offering only the best of the best, Zadoozy, a take on the slang term 'doozy,' meaning something that is extraordinary, has tested hundreds of products and markets only those that have passed their toughest tests. The company caters to the needs of busy consumers who don't have the time to comparison shop for themselves and their families, and prides itself on providing superior customer service when helping shoppers select the product that is right for them.
Zadoozy is so confident that shoppers will love their products that they offer a 90-day money back guarantee.
A national ecommerce company headquartered at 1000 Butterfield Road, Suite 1029 in Vernon Hills, Illinois, Zadoozy is an authorized dealer for each brand they sell. Zadoozy is a proud member of the Safer Chemicals, Healthy Families coalition, a nationwide effort to protect families from toxic chemicals. Shoppers can keep abreast of the latest news with Zadoozy's Twitter and Facebook accounts, @zadoozy and http://www.facebook.com/zadoozy.