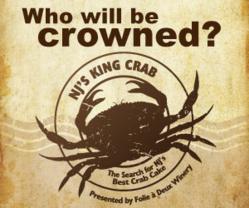 top three restaurants with the most consumer votes will be asked to participate in a professional cook-off
New Jersey (PRWEB) July 19, 2012
Trinchero Family Estates and R & R Marketing, a premier distributor of fine wine & spirits, have partnered with JerseyBites.com to produce NJ's King Crab: The Search for New Jersey's Best Crab Cake.
Restaurants entered their signature dish in the consumer voting competition, which promotes Folie a Deux Chardonnay as the ideal companion for crab cakes. Contestant registration took place throughout the month of June, while efforts were made by JerseyBites.com to advertise via a logoed "Who Will Be Crowned" banner on the home page that navigated to a detailed content page explaining the upcoming concept. Over 30 chefs/restaurants from all over the state have entered NJ's King Crab competition, with voting happening during the months of July & August. A complete list of participating chefs/restaurants may be found on http://www.jerseybites.com/njkingcrab/.
On July 2nd, the voting poll went live and is scheduled to run through September 8th, 2012. At the conclusion of the voting period, the top three restaurants with the most consumer votes will be asked to participate in a professional cook-off held at the Viking Cooking School in Harrah's Casino, Atlantic City. In addition to posting streaming video of the event on JerseyBites.com, NJDiscover.com and social media, the cook-off will be aired live on NJ Discover TV. The panel of judges will be 3 industry professionals and includes JerseyBites.com's own, Deborah Smith, Founder and Executive Editor.
For the 2nd year in a row, Trinchero Family Estates, one of the world's leading producers of fine wines, is supporting R&R Marketing's local concept for promoting the "winning combination". Previously, the supplier-distributor duo marketed NJ's Big Cheese, featuring Terra D'Oro Zinfandel paired with gourmet burgers. The winning chef of that program, Chef Tony Saboti from Gaslight Bar & Grill in South Orange, was featured as a guest chef at The 4th Annual New Jersey Wine & Food Festival in March 2012. After much success with this program, along with the highly anticipated NJ's King Crab competition, there are long term plans to continue developing these creative concepts for years to come.
Details of NJ's King Crab Competition:
Monday, 7/2 – Saturday, 9/8: Online voting poll open to consumer voting, 1 vote per registered consumer: http://www.jerseybites.com/njkingcrab/
Monday, 9/10: Announcement of top 3 restaurants/chefs with the most consumer votes
Posted on JerseyBites.com and email blasted to all consumers that voted
Monday, 9/24: Cook-Off held at Viking Cooking School, Harrah's Resort, Atlantic City
This is a closed event but will be aired/streamed live on NJ Discover TV, JerseyBites.com, NJDiscover.com and social media.
Voting is open to the public. For more information on contenders and how to vote, please visit http://www.jerseybites.com/njkingcrab/. Information may also be obtained by contacting R & R Marketing at 973-461-2355 or Email: vrudolph(at)rrmarketing(dot)com.
About JerseyBites.com
Jersey Bites is a collaborative website of food writers in New Jersey with articles on food related subjects; from restaurants, recipes and products to news, events and hunger relief programs. The site's mission is to spotlight all that is great in the Garden State, while attracting a community of like-minded readers and fans that extends to Facebook and Twitter. JerseyBites.com is owned by Foxtrot Media LLC, a digital marketing agency specializing in New Jersey Restaurant Marketing.
About Trinchero Family Estates
Trinchero Family Estates is one of the most respected family-run wine companies in the industry, with more than 28 award-winning quality brands such as California consumer favorites Joel Gott, Ménage à Trois, Napa Cellars, Trinchero Napa Valley, and Folie à Deux Sonoma; Angove from Australia; Carmen from Chile; Doña Paula from Argentina, and Shatter from France.
About Folie à Deux Wines
The Folie à Deux portfolio of elite, small-production Sonoma County wines has earned accolades and awards too numerous to mention and appear on the wine lists of America's finest restaurants. In 2004, Folie à Deux was purchased by Trinchero Family Estates, who had long been searching for an estate to further their goal of producing the finest wines in Sonoma.
About R & R Marketing
R&R Marketing is one of the largest wine and spirits distributors in New Jersey, handling more than 3,500 on-premise and 1,800 off-premise accounts. Through innovative marketing & advertising concepts and a service-oriented salesforce, R&R Marketing is dedicated to driving consumer traffic for our customers and building consumer demand for our valued suppliers.
R&R Marketing is a member of The Charmer Sunbelt Group (CSG), one of the nation's leading distributors of fine wines, spirits, beer and other beverages. A group of privately held companies, CSG operates local distributor and/or brokerage houses in 15 markets across the US. Together, these companies employ more than 7,000 associates who bring to market some of the most valuable and well-known consumer brands in the world. CSG is a family-owned business that proudly serves as the critical link between wine and spirit suppliers, and the retail outlets where alcoholic beverage brands are legally and responsibly sold and enjoyed.
Contact: Victoria Rudolph
Marketing Services & Events Manager
R&R Marketing
973.461.2355 (Office)
vrudolph(at)rrmarketing(dot)com
# # #