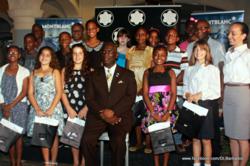 Diamonds International presented each student with a personal important gift: A MontBlanc Pen.
(PRWEB) July 17, 2012
On Thursday, July 5th, 2012, Diamonds International Barbados hosted a reception and prize-giving ceremony honoring the top 20 performing Barbados Secondary School Entrance Examination (formerly the 11 Plus) students and Totally Barbados was there to capture the moment.
Diamonds International presented each student with a personal important gift: A MontBlanc Pen.
International brand Montblanc, synonymous for exquisite writing instruments and the writing culture for the past 100 years, continues to follow lasting values of quality and traditional craftsmanship.
Their uncompromising demands on quality, style, materials and workmanship are reflected in their products and indeed who they choose to honor, only the finest, only top achievers.
Today when a person uses his computer for all writing purposes he loses his identity. The pen is the only writing device which enables personal expression, turning us all into artistes.
Personal writing serves as a fingerprint or a DNA which differs from person to person. With the help of a MontBlanc pen you can leave your mark everywhere with no hesitation.
The event was attended by the Minister of Education & Human Resource Development Hon. Ronald D. Jones MP, students, parents/guardians, teachers and special invitees. The Palm Terrace Courtyard at Limegrove Lifestyle Centre was the setting for this important occasion.
Both the Minister and Mrs. Michal Hassid lauded their outstanding performance and urged them to continue to be high achievers and reminded them that this was just one of many other important steps they will make along their life journey.
These twenty students have successfully aimed and reached to the top of outstanding pupils in Barbados and are a source of pride to all of us. Each student is proof that hard work, dedication and a desire to triumph are the key ingredients to achieving one's goals.
To succeed in studies is very important, but more important is to make your life a success.
About Totally Barbados and Brecal Inc.
Brecal Inc., operating under the name 'Totally Barbados' was founded by Brett Callaghan and is based in Barbados in the Caribbean. The company was incorporated February 24th, 2005.
Totally Barbados was voted the "World's Leading Travel Destination Website" for 2008, 2009 and 2010 by the World Travel Awards.
By guiding visitors to Barbados hotels, car rentals, restaurants, attractions and more on Totally Barbados dot com, visitors can easily plan their entire holiday and vacation, before arriving in Barbados.
Promoting all there is to know about the Caribbean Island of Barbados - that's Totally Barbados.
Media Contact
Founder and Managing Director
Brett Callaghan,
Brecal Inc. / Totally Barbados
140 B Durants Fairways,
Christ Church, BB17097,
Barbados.
For more information on Brecal Inc. / Totally Barbados, please call (866) 978-5898 or (246) 420-2420.
Email: service (at) totallybarbados(dot)com