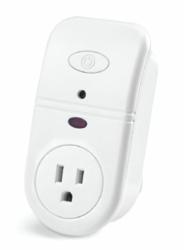 IAM's will give users much better insight in their energy usage and even more importantly when combined with our online portal, Enerati, users can set alerts based on individual devices
Fort Lauderdale, FL (PRWEB) July 17, 2012
Energy monitors give home and business owners the information they need to help reduce and manage their energy costs. The EnviR is a low cost whole home energy monitor that gives users real time energy usage information. Now, in addition to receiving energy usage information for the whole home or building, the devices can now receive data from IAM's (Individual Appliance Monitors). IAM's are smart plugs that simply plug into any standard outlet and send real time energy usage information to the EnviR display. The EnviR can export this real time data to the internet so any smartphone or tablet can be used to track usage.
With over 2 million users, the Envi energy monitoring system is the world's leading LOW-COST energy monitoring solution. "The introduction of IAM's is a real game changer. Until now low cost energy monitors could measure whole building energy or plug loads, but not both," says Robin Pearl, Vice-President of PowerSave, Inc. "IAM's will give users much better insight in their energy usage and even more importantly when combined with our online portal, Enerati, users can receive email alerts based on individual devices."
IAM smart plugs send usage information via wireless communication to an EnviR real time power display and can easily be installed anywhere, especially hard to get places like behind a refrigerator or a sump pump in the basement or an attic fan. The IAM's have an indoor range of 100 feet and outdoor line of sight range of approximately 300 feet. The display will show real time energy usage and the electric cost for each device. The display will also show historical usage and can be used to upload the information to our Enerati online smart energy portal.
The smart plugs are easy to install. IAM's plug into any standard 110V US outlet. Users then plug in a device or multiple devices using a power strip. IAM's can be used to measure any 110 volt device including refrigerators, AC's, pumps, lights, office tools, entertainment center, tools, household appliances etc.
Current Envi and EnviR users can add up to 9 IAM's to their systems for $30 each. For those who do not have an EnviR display we offer a special IAM starter kit that includes one EnviR display and three IAM's for $129. All hardware is available at http://www.currentcost.net or our partners.
Track IAM's on Enerati, our online smart energy portal. Enerati shows real time energy usage information of all connected IAM's. Users can track operating costs for each device and can even create email alerts based on specific devices real time energy usage. Now have access to better and more information than ever before.
About PowerSave, Inc.
Founded in 2010 this Florida, US based Company distributes energy monitoring solutions and energy saving devices. The Company is Master North American distributor for Current Cost, LLC, Treegreen, Ltd. and Enerati Inc. products. The Company is focused on offering the best value and leading products in this field.