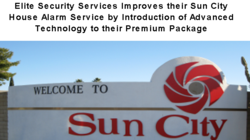 Elite Security Services Tightens their Grip on Sun City West Home Security Market by Introducing their Premium Plan with Two Way Voice Technology
(PRWEB) July 17, 2012
Distinguished Sun City West home security service provider Elite Security Services has just introduced their Premium package of home protection in this region. This package, powered by advanced voice connect or two way voice technology, makes is much easier for users to communicate with ADT monitoring stations during emergency. This sophisticated service plan is now available in Sun City West for a monthly expense of only $40.99. It may be noted here that Elite Security Services has been offering their trustworthy security service in this region for almost a year and has built an enviable reputation in the market. The company has two more excellent service plans for the homeowners
Sun City West home security has been a rising concern in the recent years due a sharp increase in crime rate. Subsequently, many well known security companies have started offering their security service in this region. Elite Security Services has done well to emerge as the top choice of the homeowners in spite of being one of youngest of the companies operating here. Voice connect technology can be an asset to any security plan because of its advanced control panel with intercom facility. This system helps to reduce the response time during emergency situations because its sophisticated intercom can verify the nature of the emergency.
Talking about this new security plan from the company, noted Sun City West home security consultant and owner of Elite Security Services, Mr. Paul Shakuri said, "With this new technology, our customers can immediately get in touch with ADT monitoring stations from anywhere in their house. This plan can be extremely handy during emergency situations because it can significantly reduce the emergency response time". Home protection experts in this region have welcomed the launch of this new package from Elite Security Services.
About the Company: Elite Security Services is a rapidly growing company in the home security industry. They offer highly efficient and economical home security solutions in America and Canada.
Contact
Paul Shakuri
Phone: 800-880-9569
Website: http://www.YourAlarmNow.com