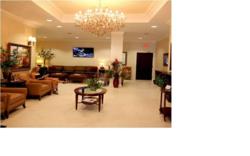 Miami, FL (PRWEB) July 18, 2012
"Our practice had outgrown the old location," says Dr. Leonard M. Hochstein in regards to moving his office from Aventura to North Miami. "Because we had such a great team we were able to make it work, but now we will be able to offer our patients the best environment to perform plastic surgery – an office that is not cramped and built to the latest safety guidelines and comfort." The new office, which is nearly 9,000 square feet, has a five-bed recovery area that includes a private, overnight-stay room.
An extensively trained, board certified plastic surgeon who has performed more than 10,000 surgeries during his career, Dr. Hochstein strives to always put the needs of his patients first. The office move to North Miami was largely to accommodate their travels by providing a more convenient spot. " Although I spent 14 years in Aventura I wanted to move to a more central location with better access for my patients," he says. "The North Miami location is in close proximity to I-95 which will avoid much of the traffic jams that some of our patients were complaining about."
The safety of Dr. Hochstein's facility plays a key role in the relocation of his plastic surgery practice. The Aventura location qualified as an "office-based surgery" setting, which Dr. Hochstein said that there are typically few guidelines for, whereas the new facility is an "ambulatory surgery center and conforms to all of the latest AHCA guidelines for patient safety."
Some of the essential safety features of Dr. Hochstein's surgery center include: air condition diffusers with fresh air and positive pressure (preventing the circulation of germs), UV bacterial killing as well as HEPA filtration, specifically monitored range of humidity, and a 100 kw generator on standby if a power outage should occur (will run up to 24 hours). In addition, patients can reach a nurse or physician immediately via a nurse call system, says Dr. Hochstein. "We also have piped in pure oxygen as well as medical air so that our anesthesiologist can alter the percentage of air given to patients during surgery. This is very important in longer cases and was not previously available," he says.
This relocation also gives Dr. Hochstein the opportunity to provide his patients with a comfortable, sophisticated office setting, which he anticipates will contribute to their overall pleasing experience: "When patients walk in they will see right away that no expense has been spared in creating an office that is not only beautiful, but functional and safe. From our warm living room-like waiting area to our offices and exam rooms patients will feel right at home."
Dr. Hochstein is board certified by the American Board of Plastic Surgery (ABPS), as well as a member of the American Society of Plastic Surgeons (ASPS). In addition to providing natural-looking, beautiful facial rejuvenation results, he specializes in several surgical body contouring procedures, including breast augmentation surgery, breast lift surgery, liposuction, and tummy tuck surgery.