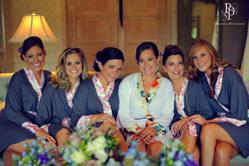 Los Angeles, CA (PRWEB) July 17, 2012
Doie Lounge, a Los Angeles-based line of eco-friendly, locally made, luxurious robes, is currently hosting a giveaway contest in conjunction with the widely popular bridal website Style Me Pretty, Texas. There is no purchase necessary and the winner will be chosen at random.
This loungewear line, coveted by A- list celebrities and called a "celebrity must have," by Us Weekly magazine, has become immensely popular with brides as the ultimate bridesmaid gift. The winner will receive the "Lilian" robe, the most popular robe chosen by brides-to-be, to be worn on the day of their wedding.
Doie Lounge robes have been featured on several wedding websites such as Ruffled, Style Me Pretty, Emmaline Bride, Survive Wedding Season, Snippet and Ink, and also non-bridal sites such as Us Weekly, Heidi Klum on aol, and Giuliana Rancic's FabFunFit. Elle Shapiro of Survive Wedding Season described the robes as a "smashing" can't miss bridesmaid gift for ladies who love luxury.
Doie Lounge specializes in robes worn by brides and bridesmaids during the pre-wedding primping, when some of the most memorable photos of the day are taken. The robes infuse this exciting getting ready time with elegance and glamour and also make beautiful gifts for the bridal party that they can wear again.
In addition to the contest with Style Me Pretty, Doie Lounge is continuing to offer its ongoing discounts for brides who are purchasing robes, in bulk, for their bridal party: 15% off when buying 3 or more, 25% off when buying 5 or more, and 35% off when buying 8 or more robes.
Doie Lounge robes are made from earth-friendly fabrics and are manufactured in Los Angeles, CA. The entire assortment is available online at: http://www.doielounge.com