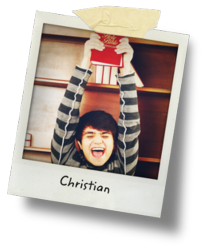 Scottsdale, AZ (PRWEB) July 18, 2012
The term Jesus Freak has, for years, had a negative connotation associated with it. Jesus Freak was used to describe someone whose enthusiasm for Jesus went above and beyond the range of normalcy and entered the realm of embarrassment. Jesus Freaks were considered "excessive" in their actions when it came to their Christianity. Often times Jesus Freaks were the object of ridicule and have been the brunt of many a joke. But a new dating website embraces the Jesus Freak and offers a place for those devoted and passionate Christians to meet other like-minded singles within the Jesus Freak Dating Community.
"Kwink.com was developed for singles who were tired of trying to find the perfect mate through typical dating websites, which are based on looks and personality", said Joel Peters, COO of Kwink, LLC. "Those are great attributes but we thought it would be better to match soulmates with similar interests, traits, characteristics, or passions that we call 'kwinks'."
Enthusiastic Christian singles have all heard the same advice. "Get into a singles group at church to find a nice guy or girl". That doesn't often turn out as expected. Matching singles with similar levels of faith and enthusiasm is often a struggle.
Additionally, many Christians feel that the cards are somewhat stacked against them when it comes to dating. "There are so many great Christians out there, looking for their soul-mate, but society has made Christians one of the few groups where it is socially acceptable to mock them. That makes it hard to go through regular channels to meet people.", explained Paige, a Scottsdale resident. The pressure to tone down their commitment is rampant and usually ends up causing friction within the dating relationship.
The key to success is finding a community of singles who consider themselves enthusiastic Christians, or Jesus Freaks as they are affectionately referred to. Being a Jesus Freak is not a negative characteristic but a positive lifestyle. Jesus Freaks take their relationship with their Creator very seriously and when two Jesus Freaks meet and fall in love, the relationship that they build together is a strong, secure and exciting one.
For those Jesus Freaks whose life revolves around their passion regarding the life of Christ and his teachings, they would definitely be mismatched with someone who didn't share that same commitment. But where can the Jesus Freak find the right person? Kwink.com has created a Christian Dating Community for just that purpose. The Jesus Freak Dating Community is waiting to help put hardcore Christian singles together.
Mike Peters
Kwink, LLC
480-629-8039
mike(at)vianet(dot)us