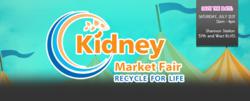 The Kidney Market Fair is designed to raise awareness about the importance of organ donation and to eliminate the common misconceptions with regards to becoming an organ donor.
Vancouver, BC (PRWEB) July 20, 2012
From 11:00 – 4:00 on July 21st, 2012, the Kidney Foundation of Canada will be running the 2nd annual Kidney Market Fair at 57th and West Boulevard at Shannon Station in Kerrisdale. The fair will feature a local vendors and booths, a silent auction, and a variety of entertainment for the entire family.
Connect the Doc is thrilled to be participating at this years' fair and aims to raise funds and awareness for the Kidney Foundation of Canada. "There is a five year wait for a kidney transplant..." says Connect the Doc founder Nasheel Kassam. "We need to get together as a community and raise money and awareness so that we can help the 2800 patients in BC who need a new kidney."
As exhibitors, Connect the Doc will be donating items to the silent auction, playing blackjack with booth visitors where all proceeds go to the kidney market fair, and using social media to generate awareness.
To learn more about the Kidney Market Fair, please visit: http://www.kidneymarketfair.ca
About Connect the Doc:
Connect the Doc is a new service that allows prospective patients to find and book appointments with private healthcare professionals in Vancouver. Currently, appointments can be made with Vancouver Massage Therapists, Chiropractors, Physiotherapists, and Dentists. For more information on Connect the Doc, please visit: http://www.ConnectTheDoc.com