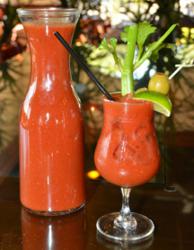 Dine and receive a Free Pitcher Bloody Mary or Mimosa at Via Brasil Steakhouse Sunday Brunch on July 22nd nd July 29th 2012
Las Vegas,Nevada (PRWEB) July 17, 2012
Every Sunday Brunch the Brazilian Steakhouse Churrascaira features an exceptional menu of over 50 options for their breakfast and brunch menu, like six meats, an all you can eat salad bar with 38 options, as well as fresh waffles, eggs benedict and omelets made to order.
Via Brasil Steakhouse, a Brazilian Steakhouse in Las Vegas, is now open every Sunday at 10 am for Brunch. Via Brasil Steakhouse Brunch includes over 50 items, like six Succulent Meats starting from, Picanha, Turkey, Prime Rib, Ham-Pineapple and Chicken, as well as Made to orders Omelets, a Gourmet Salad Bar filled with great breakfast options all you can eat.
For children five years old and under Rodizio Brunch is free and children six years old to twelve are $14.99.Via Brasil Steakhouse is also serving Fresh fruit Strawberry Juice as well as Fresh Squeezed Orange Juice.
About Via Brasil Steakhouse:
Via Brasil Steakhouse is located at 1225 S. Fort Apache Road, on the southwest corner of Charleston Boulevard and Fort Apache Road. Open seven days a week, Via Brasil Steakhouse is open for Dinner service from 5pm Monday through Friday, 3pm Saturday and 4pm Sunday. Brunch is Served Sundays Only from 10:00am - 2pm. Reservations are encouraged. For reservations or more information, please call 702-804-1400 or visit http://www.viabrasilsteakhouse.com. Also follow us on Facebook and Twitter @viabrasilsteakh
Media Contact
Anna Lawrynowicz
702-804-1400
anna(at)viabrasilsteakhouse(dot)com