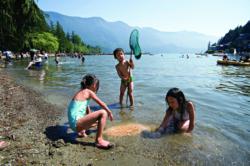 604Pulse.com shares the hottest places to swim this summer in Vancouver, Coast & Mountains.
Vancouver, British Columbia (PRWEB) July 26, 2012
Finally June-uary has ended and the summer sun is warming the waters across the Vancouver, Coast & Mountains tourism region. 604Pulse.com, the official blog of Vancouver, Coast & Mountains Tourism Region, shares with visitors and locals the hottest places to swim this summer in the region.
Start with jumping into the gorgeous turquoise waters of the rock quarry swimming hole on Texada Island. This crown jewel of swimming holes is certainly the hidden gem of the Sunshine Coast. Well, not anymore! Heisholt Lake isn't on any map which means that the best part of swimming the blue waters is that on any given day, there are no more than 10 people there.
For a bit more of a family feel, visit Bunzten Lake in Anmore, minutes from Port Moody. This glacier-fed lake can be a bit chilly on even the hottest of days, but swimmers warm up in no time by hiking, canoeing (available on site), or having a BBQ picnic with the kids or the family pooch (yes there is dog-friendly swimming!) in the surrounding park. Perfect for a day trip and close to White Pine Beach and Belcarra.
The extra-confident summer swimmer, can quickly say goodbye to winter-white limbs and forget the suit too! Wreck Beach , in Vancouver, is the regions only, and Canada's first and largest, legal clothing-optional beach. This beach is not only fabulous for a dip in the Pacific, it is also great for bird watching. Eagles, kingfishers, Pileated woodpeckers and Great Blue herons all call this area home, adding a wilderness charm to the regional hotspot.
One hour east of Vancouver lays a little slice of heaven at Cultus Lake. Often warmer in the valley than in the city, this is the place where hot people go to cool down! Perfect for the day or a weekend away, the area boasts a waterpark and four campgrounds. There are spots to picnic, launch a boat, fish, and a series of docks for cannon balling into the refreshing fresh water pool.
Get your kicks off route 99! VCM may not have a Route 66, but it does have Brohm Lake just past Squamish. This small lake is big with locals and visitors alike. The popular spot is perfect for swimming, hiking, biking, sightseeing, canoeing… the list goes on! Venture up and over the surrounding earthy forest trails either by bike or on foot and once you've worked up a sweat, take a giant leap into the cool waters.
Discover a glacier-fed lake with a shoreline as diverse as its visitors. From sandy estuaries to rock bluffs, this area nestled within Golden Ears Provincial Park boarders Maple Ridge and the District of Mission on its northwestern shore. Outdoor enthusiasts can camp, picnic, fish, boat, windsurf and water ski – to name a few! For the squeamish swimmer, the clear lake is free of underwater plants so you don't have to wonder what may lay below.
604Pulse.com is the official blog of the Vancouver, Coast & Mountains tourism region and is dedicated providing locals and visitors personal insight into the cool things to see and do in the region.
About Vancouver, Coast & Mountains: Vancouver, Coast & Mountains, one of six tourism regions of Super, Natural British Columbia, includes four destination areas: Metro Vancouver, Sea to Sky Country, Mighty Fraser Country, and the Sunshine Coast. This non-profit society is governed by a private sector board of directors who represent business and community tourism interests from throughout the region. VCMBC works with Tourism British Columbia to utilize their combined resources and provide greater benefits to the provincial tourism industry through an integrated web presence. For more information about Vancouver, Coast & Mountains visit our website or call 604-739-9011.