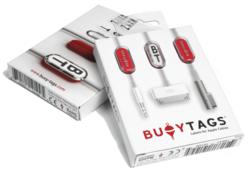 Buoy Tags are resonating with Apple users and the press alike
Los Angeles, CA (PRWEB) July 19, 2012
When the hot new Apple accessory Buoy Tags were first announced in April they were available exclusively through the Buoy Tags website. Within a short time they've become available at all 23 locations of the major electronics retailer Micro Center, which makes Buoy Tags easily accessible to large urban areas such as Chicago, Boston, Dallas, New York, Los Angeles and Atlanta. They can also be purchased through the Micro Center website.
Buoy Tags are resonating with Apple users and the press alike and both have responded enthusiastically. The July issue of Macworld magazine featured Buoy Tags on their "Hot Stuff: What We're Raving About" page. They were also chosen by Real Simple as one of "6 Ways to Simplify Your Life."
These "Labels for Apple Cables" are saving people from losing the well-known white Apple Earbuds, USB Dock Chargers (for iPhones, iPads, iPods) and MagSafe Adapters (for MacBook Air and Pro). They come with convenient letter and color inserts and are further customizable using online templates on the Buoy Tags website. At $12 for the Apple Three Pack, they're very affordable and priced well below most Apple accessories.
Working with Micro Center is just the beginning for Buoy Tags in the retail environment. Recently launched on Amazon, Buoy Tags are also finding a good home with the world's largest online retailer.
Find Buoy Tags at any of the aforementioned places and expect many more options soon. Interested retailers and distributors, please use the contact information provided.